The A-to-Z of VMware suitors
Why virtually all storage vendors are so keen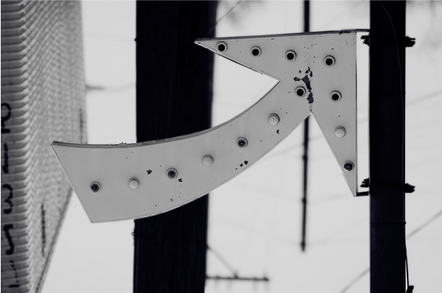 Every storage player wants to be a good citizen in the VMware virtual data centre and server world. They showed up to VMworld to be seen and counted, and to demonstrate that they too can play nice in what is increasingly looking to be an EMC-owned data centre and server interface to all things networking and storage.
Where is the storage vendor that isn't playing nice with VMware?
In alphabetic order, some of the storage suitors are:
Brocade
Brocade says it can deliver VM app-aware storage quality of service because it is tying in its HBAs and switches to VMware.
Its DCFM 10.3 fabric manager has been optimised for VMWare and server virtualisation. SAN administrators are able to view virtual machines (VMs) running inside physical servers and have the ability to view VM properties end-to-end, from the server to storage via Brocade HBAs and switches.
There is a management "plug-in" for VMware vCenter that will supply metrics and alerts through VMware vSphere. This will help VMware administrators troubleshoot issues pertaining to the fabric.
The combination of Brocade DCFM 10.3 and the VMware management plug-in will be able to trigger a dynamic vMotion if a critical alert occurs in the SAN and provide a set of recommendations on resolving the issue.
The idea is that VMS and SANs can "see" one another according to Brocade, and so operate more efficiently.
Brocade is also introducing Server Application Optimisation (SAO) for Brocade FC adapters and switches through the newest release of the Brocade Fabric Operating System (release 6.2). This introduces the concept of "application-aware" Quality of Service (QoS), which helps preserve service level agreements and improves performance-under-load for mission-critical applications running on VMs.
Brocade says: "Through SAO, server administrators will also have access to application-level performance monitoring, statistics and diagnostics. By being able to isolate and prioritise traffic according to the needs of a particular VM/application, server administrators will be able to enable heterogeneous VM/applications to share a single HBA and to manage more VMs per physical server."
Brocade DCFM 10.3 is expected to be available in September from Brocade OEMs and resellers. The Brocade management "plug-in" for VMware is in early development phase and is expected to be available in mid-2010 - a relatively long way away then. Brocade SAO is available today as a license to Brocade FC switches when used in conjunction with Brocade HBAs.
EMC
EMC has announced an expanded business and technology alliance with VMware. It is now a fully-authorised reseller of VMware vCenter AppSpeed. This, along with EMC's virtualisation services, will be offered through EMC Select as part of EMC's Ionix portfolio, enabling customers to have management capabilities across their physical and virtual IT infrastructures.
EMC and VMware are also partnering to provide new services designed to rapidly identify and migrate (physical to virtual) tier-one applications.
FalconStor
FalconStor is introducing storage management and new disaster recovery (DR) extensions for VMware vCenter Server and Site Recovery Manager that provide virtual machine storage provisioning as well as automated failback of remote virtual machines to the primary data center. FalconStor is also demonstrating its new File-interface Deduplication System Virtual Appliance (FDS VA) for easy-to-deploy data dedupe for VMware vSphere 4 environments.
FalconStor's Network Storage Server (NSS) extends Site Recovery Manager functionality across the data centre by adding support for physical-to-virtual machine failover. It claims that this unique implementation dramatically speeds site-level failover and reduces DR costs.
Its Failback Manager for Site Recovery Manager lets vSphere 4 users automate the failback process to the primary data centre in a single step once the restoration of data center services are complete.
These new features complement FalconStor's Storage Replication Adapter (SRA) for Site Recovery Manager, which integrates FalconStor's replication capability with Site Recovery Manager.
FalconStor says it enables backup optimisation by completely eliminating the backup window and offloading backup operations from VMware production environments.
Its Storage Manager for vCenterServer is a plug-in tool with which users can create virtual machines with data stores allocated from storage managed by FalconStor software within the vCenter management client. It also enables users' access to features such as virtual machine replication, thin provisioning, and storage migration.
With the introduction of the FDS VA, FalconStor now offers its entire storage solution portfolio as a virtual appliance that runs on ESX and ESXi, including its Virtual Tape Library (VTL), Continuous Data Protector (CDP), and NSS. FalconStor says these virtual appliances "support VMDirectPath I/O from VMware to provide high-performance storage access that increases the throughput of FalconStor NSS VA running on the VMware platform by tenfold."
FDS VA includes a NAS interface, allowing native backup tools provided by Microsoft Windows Server 2008, SQL Server, Exchange, SharePoint, and Oracle Database to send disk-based backup files to FDS VA for deduplication. No modifications to VMware virtual machine guest operating systems or applications are required.
Sponsored: Minds Mastering Machines - Call for papers now open