Windows 7 versus Snow Leopard — The poison taste test
Abandon ye rhetoric
Mac fish, Windows pond
What about a Mac in a Microsoft environment? Snow Leopard introduces enhanced Exchange support, based on Exchange Web Services rather than IMAP, which enables deep integration with Mail and iCal.
There are several disappointments though. You need Exchange 2007 SP1, and even then it is not feature complete. You cannot access public folders, or use multiple sending addresses, or get delegated access to other mailboxes. I also found it somewhat fragile, and from time to time had to re-start Mail to resume send and receive. Outlook on Windows is a superior Exchange client, for all its many faults.
Another point of interest is support for Microsoft's Office 2007 document formats, such as .docx and .xlsx. Apple has support for opening these in iWork 09, and even TextEdit can open .docx, but I found Mac Office 2008 necessary for reliable fidelity. Support for the classic Office formats is much better. Microsoft's Open XML is best avoided in mixed environments.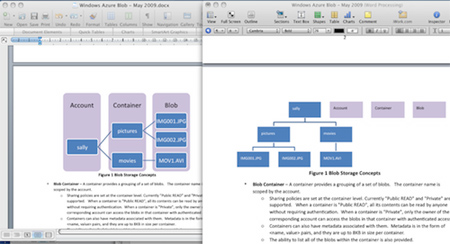 Apple Pages, right, scrambled the diagram in this Word .docx document
Overall it is not that hard to run Snow Leopard alongside Windows, and there is always virtualised Windows as a fallback. That said, Microsoft has an array of network management and group policy tools that make Windows standardisation attractive to admins, and this is unlikely to change soon. Migration to web-based applications, making the local operating system less relevant, may well come sooner.
Software developers have a lot to like in Snow Leopard. Xcode is a fantastic IDE that comes for free and that has new static analysis and profiling tools. Apple has also simplified concurrent programming by building thread management into the operating system, in a feature called Grand Central Dispatch. OS X is also a more comfortable environment than Windows for working with cross-platform code, thanks to its Unix family compatibility.
On the other hand, there is nothing to match Visual Studio for rapid development of business applications with .NET languages. There is no clear winner, as the two platforms address different needs.
In the end you have to choose your poison. Snow Leopard continues the Mac tradition: it is fast, elegant and powerful. Further, Mac OS X has a capacity to delight the user that is lacking in Windows, thanks to design excellence. Against it is the higher price of entry and restricted choice of hardware from a single vendor.
Windows 7 is the mass-market choice, benefits from countless applications along with mature network management tools, and performs well. I doubt many who switched from Windows Vista to OS X will return, but Windows 7 may stem the tide. ®
Updated on 9/3 at 10:00 a.m. PDT to add configurability information about Mac OS X's Spaces feature.
Sponsored: Minds Mastering Machines - Call for papers now open