Rock Xtreme X790
Desktop Core i7 in a notebook
In addition to the mighty Core i7, this model also includes 4GB of DDR 3 memory connected directly to the i7's on-board memory controller on a 1066MHz bus. And it has no fewer than three 250GB hard drives, each rated at 7200rpm and combined using Raid technology for extra data security.

A plethora of ports festoon the left side of the X790
The right-hand edge of the unit is relatively unadorned - just four USB 2.0 ports there - but the left-hand edge is positively festooned with connectivity options. There's an HDMI port and a Blu-ray drive, so you can kick back and watch HD movies when you're not tackling e-crime. Other connectors include an eSata interface, coaxial connector for an optional TV tuner, 56Kb/s modem, Gigabit Ethernet, four-pin Firewire, ExpressCard slot and a memory card reader.
Finally, there's a DVI port on the back for connecting an external monitor, a set of audio connectors on the front edge, and the whole unit is topped off with a copy of 64-bit Windows Vista Home Premium and a three-year on-site warranty. Rock also offers a seven-day "peace of mind" guarantee, allowing you to return the machine for a refund in case your boss or significant other threatens to show you the door when they find out how much you've paid for your new toy.
Our first thought when we heard about the i7 processor was that the machine would make a hell of a racket and pump out enough heat to roast your Sunday joint. In fact, it ran more quietly than we expected. The fan makes a steady quiet hum, but it's not particularly obtrusive and is certainly quieter than many tower PC systems that we've lived with over the years.
However, the base of the unit does get pretty hot – too hot to rest comfortably on your lap for any length of time, so it really will need to sit on a desk most of the time.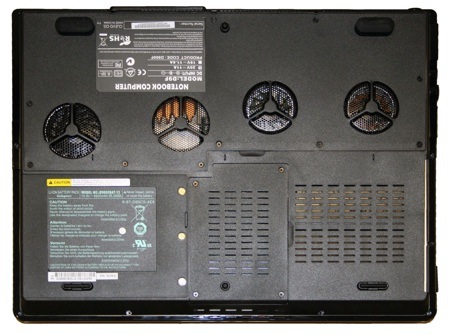 It gets rather hot on the bottom
The size, weight and battery life all reinforce the fact that the X790 is designed to live on a desk rather than being used on the move. This is a portable PC rather than a mobile one. The laptop and power supply together weigh a hefty 5.4kg, and the power brick itself is almost as large as some of the netbooks that we've seen recently.
Sponsored: Minds Mastering Machines - Call for papers now open