Rock Xtreme X790
Desktop Core i7 in a notebook
Review The mobile version of Intel's Core i7 processor isn't due to arrive until early next year, so we were a little surprised to hear that UK system builder Rock was about to launch a new range of laptops based around the i7.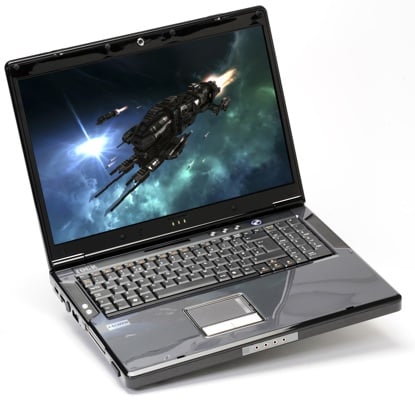 Rock's Xtreme X790-i7-950: built for speed, not for looks
A quick call to Rock confirmed that the company is using a standard desktop i7 processor. Our first thought was that this was an unabashed pitch for the gaming laptop market, but the Xtreme 790, Rock informed us, is simply intended to be "a very powerful all-round workstation".
It also dropped hints about the police e-crimes unit using machines such as this to analyse server data, "though we can't go into too much detail on that", the company added enigmatically.
There are three models in the range, starting at £1999 with a machine featuring an i7 running at 2.66GHz. We tested the mid-range X790-i7-950, which runs at 3.06GHz and costs £2399. There's also a 3.33GHz model that's priced at an eye-watering £2999.
To be honest, the X790 is nothing special to look at. Most laptops in this price bracket are pimped out with all sorts of go-faster stripes and gratuitous flashing lights in order to tempt the testosterone-charged gaming brigade. But, befitting its status as a workhorse, the X790 is clad in a sedate silver-grey with black trim.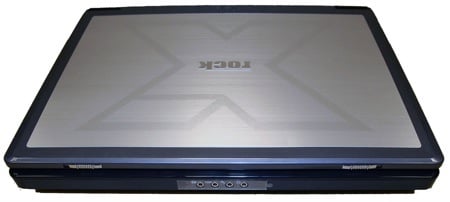 Pitched as a workhorse rather than as a games machine
The glossy 17in screen has a native 1920 x 1200 resolution, and produces a bright and attractive picture, but there's no option to choose the matte finish still preferred by many designers and photographers. It's driven by an Nvidia GeForce GTX 280M graphics processor with 1GB of dedicated video memory
COMMENTS
design course anyone?
That company needs to get hardware designers! No, I do not want a pavement, I want a good looking device. I don't buy Lada cars, because they do not look nice ... can't they come up with something, I don't know, less ordinary .... I mean even cars are getting prettier over the years, look at the recent Jags or Audis ...
Just another CLEVO Clone
Just another piece of CLEVO clone rubbish. In my experience they are noisy, pporly assembly and very unreliable.
http://www.engadget.com/2009/03/03/hands-off-with-core-i7-packin-clevo-d900f/
http://www.clevo.com.tw/en/products/prodinfo.asp?productid=19#
3->3.3ghz means 2.4->3.0k ?
Why do people pay substantial extras for speed bumps? If a laptop is written off in 3years, then presumably a 600quid price hike over the 2.4k model means waiting 9months longer to replace it --- this will be much much more than a 10% slowdown (as if a 10% speed bump of the processor makes a 10% faster machine).
So what if the faster machine comes with some other better components (typically larger HD, possibly better video card): the same holds --- by the time the HD is anywhere near full, the HD costs half as much for twice the size, so better invest in 2-3 years your 600 saved now.
Or am I just explaining the sweet spot and are all the premium payers corporate w*nkers who get away with it? There's a thought. Phd students and lecturers doing the actual work end up with macbooks and Dells while a huddle of profs are typically 80% titanium macbook pro's, just for mailing and typesetting and presentations.
any chance....
that you guys could add the scores you got (or, in future may get, should you chose to run the tests) for the same tests using Mac laptops running bootcamp?
please?
(even have cute face to appeal to your inner nice person)