Hands on with the Nokia N900
We rush to judgement
5 ways to reduce advertising network latency
Text input is still hugely neglected by everyone, Nokia included. The marketing people at Nokia are obsessed with photo sharing on the web, perhaps because the expensive marketing consultants they hire tell them that. Or focus groups are loaded to "rich media". But the "content" that most of users "generate" is text. Even Apple makes its SMS app needlessly obtuse - although typing on the iPhone is much easier than any of Nokia's Qwerty keyboards.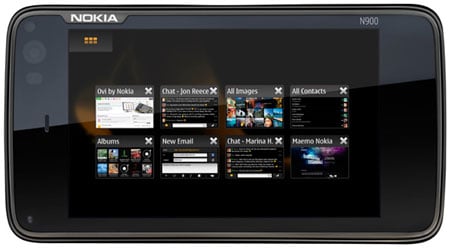 Look, no buttons
Nokia is very coy about battery life, but says the N900 should fulfill the goal of getting through a day. Talktime, I was told, should be comparable to other high end devices. [Update It's five hours, Nokia says.] I'll be astonished if that's true. Nokia's own E71 sets such a high standard here for the entire mobile industry, I can't imagine how an OpenGL device pushing five times as many pixels around is going to get close.
What of the apps? Messaging looks pretty slick. Email supports Mail for Exchange as well as conventional IMAP/POP3 mail. I have painful memories of the N800 taking a minute to shake hands with an IMAP server, and while I'll report back on email performance later, the N900 is a great improvement. Messaging still isn't quite "unified" - but given the quantity and low value placed on IM messages or the Twitter deluge, compared to the high value of personal SMS messages, that's a good thing.
The P900's PIM functionality is surprisingly good. It supports multiple calenders and integrates to-dos.
The browser is based on Mozilla. It's much improved on earlier versions, and the performance here brings it into the Android and iPhone class. But somewhere near the back of the class, where the slow children sit. It doesn't feel quite as slick at loading pages or scrolling as these rivals - while you really need a heavy site to slow down the 3GS, but my dusty personal archive took about 20 seconds to load on the N900, which felt like ages.
It doesn't support Java, but it does support full Flash, so YouTube works fine. It's stolen some of the iPhone's gestures (double tap to zoom) and a really wacky one where you corkscrew clockwise to (slowly) zoom, or anti-clockwise to zoom out.
I fear some blogger, who probably spends half the day licking the window, told Nokia they thought this was "way cool".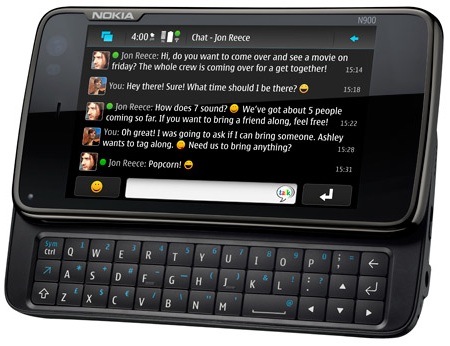 It's about text, stupid.
For now, the browser may be good enough, but there's room for improvement. For example, the purpose of double-tapping in the iPhone's browser is not merely "zoom", but "zoom to fit" a block of text. The former may require you to faff around for ages, the latter lets you get reading much faster. Has Nokia got some cultural prejudice against both reading and writing?
Given the work that has gone into every other aspect of the device, the browser is the N900's weakest link.
So what's the verdict?