Hands on with the Nokia N900
We rush to judgement
Oddly, it doesn't include Nokia's most powerful, 1500mAh battery, using a 1320mAh battery instead. But "go compact" was evidently the order of the day, so perhaps there wasn't the room.
The N900 has made a radical break, not just with earlier versions of the tablet UI (Series 90/Hildon), but also S60. The Finns demonstrate it below, but a few subtleties aren't immediately obvious.
In stark comparison to the short-lived S90 series and Nokia's first Linux tablets, which sprouted all kinds of buttons, the N900 offers a blanket slate. A 'tablet rasa', if you like. There are no call and end keys to indicate that it's a mobile phone.
I offer this diagram from the Nokia 7710 manual as a comparison: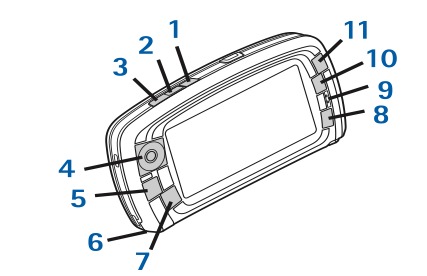 Menu key, Desk key, Escape key, Switch key, Zoom key... oh, sod this.
In the landscape mode, the N900 has standard phone camera controls across the top, a pin-sized (but perfectly usable) power button, and a lock slider. And that's it.
The N900 UI dispenses with the pull-down menus of its predecessor, with an emphasis on switching applications quickly. You do so with an Android or Pré-style flick. There is just one menu bar, although this isn't really obvious, and this simply brings up a settings menu. So the natural state of the device "at rest", if you like, is this view of miniatures of applications.
The old "home" screen, with its shortcuts for contacts or applications, has been spruced up a bit. And the old applications folder is still there.
Spec-wise it builds on its predecessors, keeping GPS and adding a 5Mp camera and an FM transmitter. The no-frills keyboard is adequate, and better than the awful N97 and (worse) N97 Mini keyboards, but nowhere near the BlackBerry Bold.
Sponsored: Minds Mastering Machines - Call for papers now open