BMW unveils futuristic Vision
Stylish hybrid with F1 tech and 435-mile range
Leccy Tech BMW has released details of its Vision Efficient Dynamics plug-in hybrid concept vehicle, ahead of the car's official unveiling at the upcoming Frankfurt Motor Show.
Designed to provide the performance of an M3 and the economy of a diesel Mini, Vision is powered by a hybrid power-train consisting of a 1.5l, three-cylinder turbo-charged diesel engine and two electric motors.
A 163bhp (120kW) diesel engine sits just ahead of Vision's rear axle, powering the rear wheels by itself or in combination with an electric motor - which has a 38kW peak power output.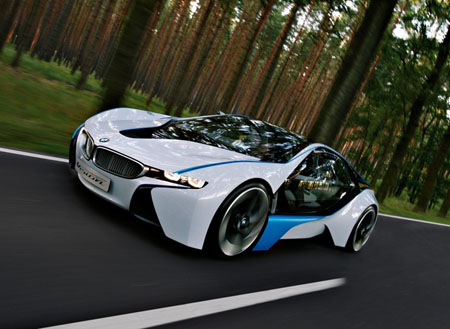 BMW's Vision boasts a top range of 435 miles
A second electric motor - with continuous output of 60kW - is used to drive Vision's front wheels. This motor is also capable of producing up to 84kW for 30 seconds or up to 104kW for ten seconds.
The hybrid layout means Vision can run in both rear-wheel and four-wheel drive configurations while powered by the diesel engine, the electric motors, or a combination of the two.
Energy storage is provided by a 10.8kWh 98-cell lithium-polymer battery pack, which weighs 85kg (187lbs) and sits along Vision's spine in a similar layout to the Chevrolet Volt and AMG SLS eDrive.

Gull-wing doors complete the look
Vision's battery pack is designed to discharge up to 80 per cent of its capacity in normal use, according to BMW. By comparison, the Volt has a maximum battery pack discharge of 50 per cent.
Computer simulations have revealed that Vision can reach 60mph in less than five seconds because, with the accelerator pressed flat, the car's net power output is 351bhp (262kW) and its maximum torque a healthy 590lb/ft (800Nm).
Those same simulations suggest the car will return an average fuel consumption of 75.1mpg over the EU test cycle and produce 99g/km of CO2.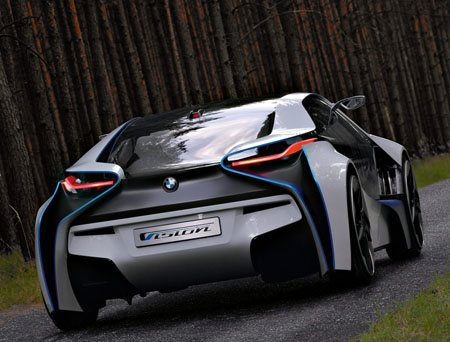 Vision's battery discharges 80 per cent of its power
Vision has an electronically limited top speed of 155mph, BMW stressed.
When Vision's five-and-a-half gallon fuel tank runs dry, the hybrid will go for roughly 30 miles on electric motors alone. But with a full tank and a full charge, the car's maximum touring range is roughly 435 miles.
Apparently, Vision's wind-cheating wheel trims, exterior design - which includes a fully covered underside - and low drag factor are the result of BMW's experiences in the F1 racing world.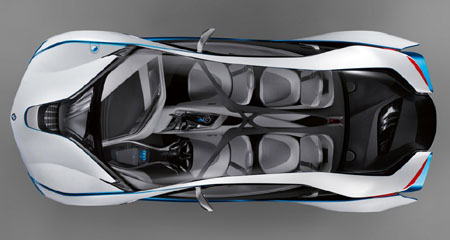 Sadly, Vision production isn't planned
The vehicle's light 3069lbs (1395kg) weight is largely due to use of an all-aluminium chassis and polycarbonate body panels.
Vision is only a concept car for now, but BMW described the vehicle's design and construction as "near future" technology. ®
Sponsored: Minds Mastering Machines - Call for papers now open