Samsung unveils DSLR-style compact camera
One lens, but a 24x optical zoom
Despite looking like a digital SLR, the WB5000 is actually Samsung's latest attempt at a high-end compact camera embedded with DSLR-style features.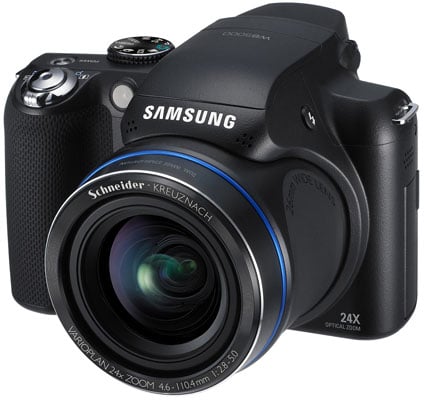 Samsung's WB5000: lacks a lens swap ability
The WB5000 features a 24mm wide-angle lens and 24x optical zoom. But it's worth noting that since the camera isn't a DSLR, you won't be able to swap lenses to suit your subject.
However, you have full manual controls at your disposal, though an automatic shooting mode is also included for point-and-clickers.
The WB5000 can snap images at up to 12.5Mp and record 1280 x 720p H.264 video at 30fps. The camera takes SDHC memory cards.
All the standard features you would expect on such a camera are included, such as optical and digital image stabilisation, and a RAW image shooting mode. The camera can also recognise up to 20 faces, which you can search for in playback mode too, Samsung added. Blink and smile detection also feature on the WB5000.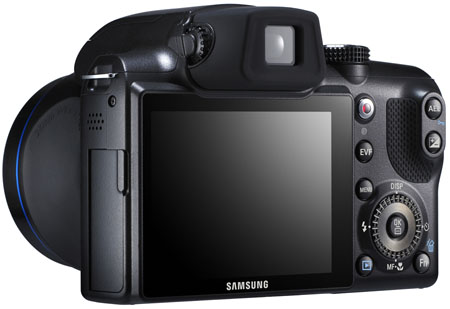 Snap using full manual controls - or let the WB5000 set things up automatically
Samsung's WB5000 will be available to buy later this month, but a price hasn't been released yet. ®
COMMENTS
Just 2 things...
1) The WB500 is a different camera to the WB5000 so it might be advisable to fix that typo in the closing sentence.
2) Whether or not a camera is an SLR is not strictly dependent on whether or not that camera has an interchangeable lens system, "SLR" is all about whether or not the camera has a viewfinder that uses the same objective lens used to capture the image (and technically involves a mirror of some kind - the "reflex" part).
But I guess most people would know what you meant. :)