Samsung N110
The best keyboard on a netbook yet?
The icons on the upper deck of the NC10 and N120 that tell you what all those side ports are for have mercifully been removed – not only were they wholly pointless, they made the keyboard surround look an utter mess.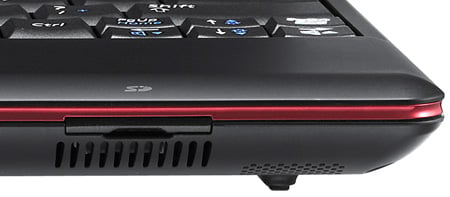 As with so many SD card slots, the protrusion factor when loaded is a vulnerability
Up front on the left you will find the usual Samsung row of seven status LEDs while a SD/SDHC/MMC card reader lurks on the right hand side. While the cards don't stick out to the ridiculous extent as they do on Dell's Mini netbooks, they still protrude too far to be left in place without fear of damage. Fortunately, the N110 continues Samsung's tradition of allowing easy access to the memory slot should you wish to upgrade the Ram.
Inside, the important bits are the current Samsung netbook norm. So you get an Atom N270 1.6GHz processor along with Intel's 945GSE chipset, 1GB Ram and a 160GB HDD. Connectivity is courtesy of 812.11b/g Wi-Fi and Bluetooth 2.0+EDR. The OS – if you need to ask – takes the form of the venerable Windows XP.
While the 84 button keyboard is identical to the NC10's – complete with antibacterial protection that can apparently compete with Domestos in the germ genocide stakes – the touchpad is a little larger at 60 x 35mm. The keyboard was always an NC10 strong point and while it feels a good deal smaller than the N120's 'full size' affair, it is still a joy to use and one of the best on any 10in netbook.
The NC10's sound system has also been given the once over with the two 1W speakers replaced by 1.5W units. It's hardly enough to give you a Maxell moment, but the increased output will be welcome if you intend to watch a lot of videos without headphones.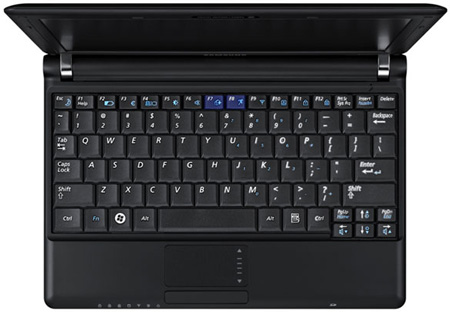 Among the best keyboards we've tried on a 10.1in netbook
The N110's screen is typical netbook at 10.1in corner-to-corner, with a 1024 x 600 resolution. However, unlike the matte effect screen finish on the NC10, the N110 has a glossy affair. Better for watching video in low light, less helpful in bright conditions where reflections can become an issue. With the N120 being punted as a multi-media machine we are not quite sure why Samsung didn't stick a matte screen on the N110. Perhaps the NC10's screen just wasn't that big a hit with the punters.