Samsung N110
The best keyboard on a netbook yet?
Review Samsung is knocking out new netbooks like there is no tomorrow. Yet, with the N120 and N310, we have seen the company try to define new netbook genres where there really aren't any. The former is marketed as a multimedia optimised machine, while the latter targets anyone swayed by styling and fancies a laptop that resembles a bar of soap.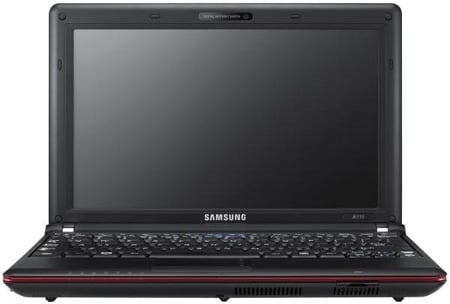 Samsung's N110: another netbook, another price point
Now the N110 has arrived, we suspect it is intended to be seen as an upgrade of the NC10, rather than a new niche filler. But does new equal better? And, more importantly, does it equate to being worth the extra cash Samsung will no doubt be asking for?
The most obvious differences between the N110 and NC10 are in appearance. Let's face it, with so many netbooks doing more or less the same thing for more or less the same price, looks are as good a reason as any or predicate your purchase on. In this respect, the N110 can be regarded as a worthwhile improvement.
To start with Samsung has ditched the silver highlight strip that circles the NC10 in favour of deep red narrow pinstripe, although the screen hinges are still chrome effect. Efforts have also been made to give the N110 a smoother and more rounded profile than the NC10 making it look rather more svelte and sculpted. It appears a more expensive machine too, which is just as well because as we will see below, it is a more expensive machine.
In terms of size there is nothing to choose between the old and the new. At 261 x 185 x 30.5mm the N110 is, to all intents, identical to the NC10. According to Samsung, the new machine is actually 70g lighter at 1.26kg.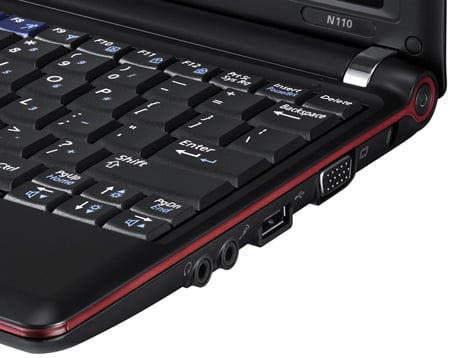 Powered by a 1.6GHz Intel Atom, aided by go-faster stripes
The layout of the external jacks and sockets has been carried over from the NC10 so you get two USB sockets, an 10/100Mb/s Ethernet port and power plug on the right along with a third USB socket, VGA port, Kensington lock and 3.5mm headphone and microphone jacks on the right. The on/off button sits in the right hand end of the screen hinge and as with Samsung's other netbooks, you also get a 1.3Mp web cam and built-in microphone.
COMMENTS
I recommend another netbook keyboard
I recently got a MSI Wind U100+ , the keyboard touch is better than most laptops I've had a go on!! it is very firm, feels like I'm typing on a Thinkpad (only difference is the much smaller keys of course). If you are looking for a netbook with a nice keyboard, take a look at this one too.
Re Albert and Jerome0
I'm agree with you - there's no way that a netbook should be £350 as that's putting it firmly into cheap laptop territory.
Besides, if you got an netbook for about £190, then it's only about £70 to add a high capacity battery. So that's £90 less for something comparable, but with a 1" smaller screen (big deal!). Heck even if I go for a fancy 10" version the difference is still about £50 - so that Samsung is over-priced imho!
Re: Jerome0 - I too bought an AAO, (but mine cost more than £200 - darn it!), and if the battery life is the main drawback then I'd seriously recommend the 6cell battery. Okay it's another £70 and it does stick out so much that using the supplied sleeve case is impossible, on the other hand it raises the machine up nicely for typing; isn't that much extra weight; and I get about four hours from a full battery in normal Ubuntu use (and the supplied 3cell makes a nice spare).
Hopefully the manufacturers will over estimate the number of netbooks being bought for Christmas and hence there'll be some reasonably priced units in the New Year sales.
Sigh
Bog standard features? Check!
Crappy intel chipset? Check!
Less than adequate screen resolution? Check!
Microsoft Tax? Check!
3G modem non existent? Check!
Stupidly overblown price? Check!
Yep, it's a 2009 netbook alright.
Microsoft and intel can go and get stuffed.
I can't wait for the ARMbooks to arrive.
Don't throw stones until you've used it
Unlike some of the other posters here who complain about the glossy screen and the cost of this unit, I would like to offer a perspective from someone who actually owns and uses one.
I purchased mine from Provantage for US$378 (£233 with current exchange rates) and couldn't be happier with it. I do not have problems with glare, and have used it indoors and outside, in bright light and dim. The battery life is great, and after a full day I still have plenty of charge left.
I have other laptops that I use for heavy computing. My primary use for this unit is for VPN'ing into my office and using RDP for remote maintenance my servers, with email and research being a secondary use. Small and cheap enough that I can leave it in the map pouch in the seat of my truck without worrying about it, and powerful enough to get the job done.
The keyboard on this unit was a huge selling point for me. You don't realize how hard it is to find a netbook with a real keyboard, that puts keys like the / and the ? in the right place, until you actually start looking. The 6 to 8+ hours of battery life that I get out of it is great, and that is with brightness turned up and running a vpn over the wifi. I spent $20 on a car adapter for it, but I've never had the need to use it, even when sitting in the truck tethered to my phone via bluetooth to get out to the internet.
I'm not a big fan of ANY glidepads, so I also toss a small bluetooth mouse in the bag that I dig out if I'm using it for more than a few minutes. I also upgraded the ram (US$32 for 2 gig, there is only one sodimm slot) because (1) is IS running windows and (2) for $32, why not?
Quite honestly, now that I have it I would even admit that I would have even paid more for it.
At first I was planning on upgrading the HD to an SSD, but now that I have it, I've found the HD to be robust enough. If it fails... well, then I'll get the SSD.
Re: What would move the form factor forward
"Netbooks need higher screen resolution. 1024x600 is serviceable but higher rez screens as standard for the platform would be very nice. I've read that Intel and/or M$ pressure the netbook makers to not exceed 1024x600 - is this true?"
More than likely.
Component cost is a factor too - you can get 10" displays with higher resolutions but they're still quite expensive compared to the more bog-standard 1024x600/768/whatever displays. For me, 1024x768 on a 10" screen is ideal, 1024x600 is a minor pain although since my netbook isn't my 'main' machine I can live with it for occasional use.