x86 Server virtualization still work in progress
Good start, but it's not all plain sailing
This and other feedback suggests that unlocking the full potential that virtualization clearly offers, even in terms of simple server consolidation, is in many cases going to involve negotiation with business stakeholders and finance guys to work through ownership issues and deal with the budgeting, cost centre accounting and other administrative mechanics that would otherwise stifle progress. Indeed, the ownership issue remains the most commonly cited challenge to consolidation initiatives: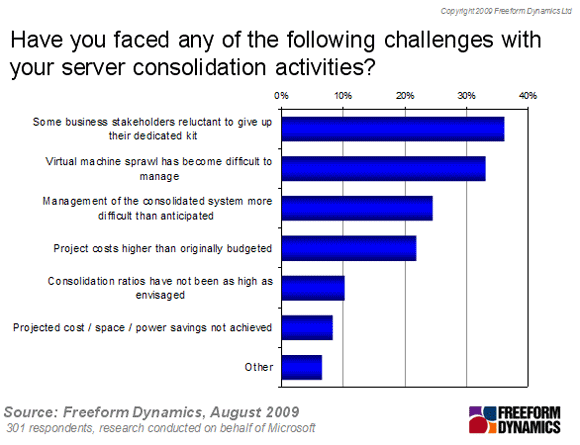 Beyond the politics and financial admin, we can also see some very practical issues highlighted on this chart. About a third of respondents, for example, say that once you have tackled the problem of physical server proliferation, a similar problem might sneak up on you in the form of virtual machine sprawl. The irony is that one of the great benefits of virtualization, i.e. the ability to create a new virtual server quickly on demand, means that the temptation is to just keep creating more servers.
Related to this, but also a potential issue even in a more disciplined environment, is the question of virtual server management. As has been discussed in our workshop [link], while the hypervisor part of the equation can often be acquired for little or no incremental cost, management tools have to be paid for, and this is currently an area that is often considered as an afterthought. Of course in an ideal world, you would want you existing operations tools to help you look after your virtual environment, but not all management suites are up to this, and one vendor at least, is still insistent on virtual server management being something that should be dealt with separately. Whatever your current capability and philosophy, however, the management question is clearly not one to be ignored.
Sponsored: Minds Mastering Machines - Call for papers now open