Snow Leopard arrives with meow, not a roar
Fanbois ain't what they used to be
Photo special Snow Leopard went on sale this morning, and in San Francisco the turnout was modest, with merely a hundred-plus fanbois in line.
Most of those queuing up with whom we spoke remarked about the lack of crowds, many comparing today's relaxed atmosphere to the wrapping-around-the-block lines for Leopard's release and the veritable chum-in-the-water feeding frenzy that accompanied the launch of the original iPhone.
An hour before Snow Leopard went on sale, prospective purchasers were sparse.
No television or radio news crews were in evidence, and neither were the Cnet bloggers who graced the launch of the iPhone 3G last summer.
No one seemed concerned that Snow Leopard wouldn't run on their older PowerPC-based Macs, either. The fifth person in line, Raymond Centeno, summed up the sentiment of those with whom we spoke, saying: "I think at some time they had to. With no new PowerPC chips coming out they had to cut the cord."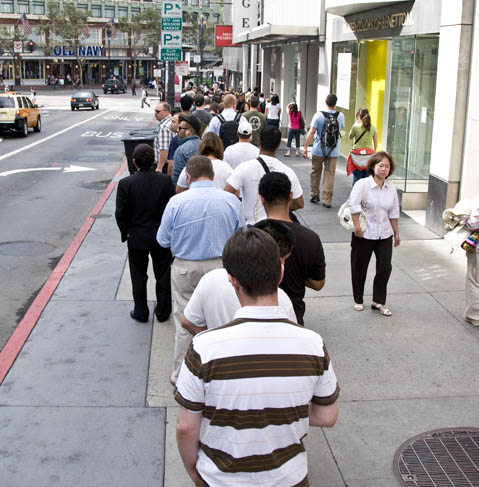 Right before the doors opened, the crowd had grown to span most of a city block
The top reason for moving to Snow Leopard among our small sampling was speed. A number of folks cited reviews praising performance improvements, including one person who cited The Reg's own comprehensive first look.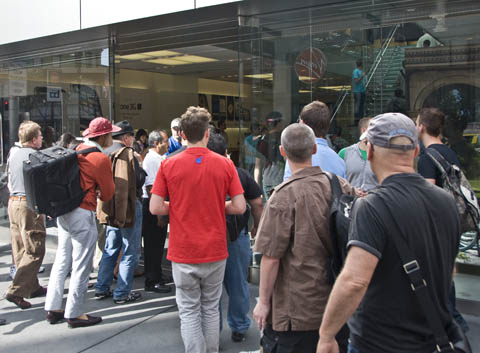 Once the doors opened, security folks had their hands full
By no means all of the queuers were deep geeks. One mom, Judy Knott, when asked what she was looking forward to most about Snow Leopard, said: "I don't know - I rely upon my son to tell me."
And her son was the first person in the line, having arrived at 8:00am - 12-year-old Liam Stewart, Mac enthusiast, Java coder, and a fanboi who is an actual fan boy. "I have Vista in a partition on my Mac," he told us, "and I hate it. It crashes all the time, I get blue screens of death, and the start-up times are ridiculous."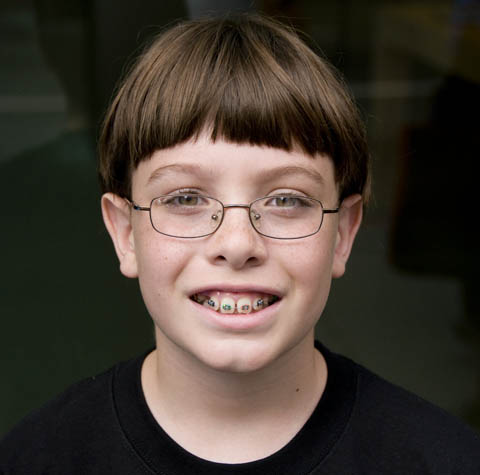 In a decade or two, Liam Stewart will be your boss
Liam is also webmaster of iMoosey.com - but don't blame some of the design problems of his website on him. "[Apple's] iWeb has a lot of limits," he says, "it's not really HTML."
Once inside, Snow Leopard purchasers found the usual army of Apple clerks ready for them. Many - such as your reporter - merely had their credit cards swiped on the store floor by handheld-equipped clerks, and were quickly on their way.
The line dissipated within minutes. And upon exiting, each purchaser was sent off with a hearty "Congratulations!" from a smiling Apple ambassador.
That exit line may have been the most exuberant moment of an otherwise quiet morning. ®
Sponsored: Minds Mastering Machines - Call for papers now open