Panasonic DMR-BS850
Freesat+ Blu-ray recorder with nearly all the trimmings
It's a shame, then, that though the DMR-BS850 can play back HD video that's recorded on DVDs – like our home-made HDTV setup disc – it can't write HD video onto recordable DVDs. You might not get a huge amount on each one, but some would be better than none, as the HD re-encoding options could help resize recordings to fit more on a DVD. You can, of course, copy HD recordings in SD mode to either DVD or BD.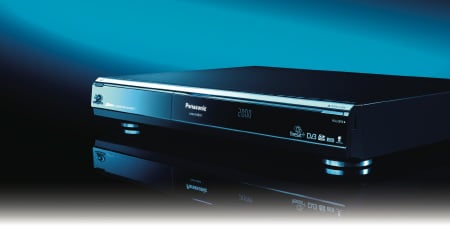 Blu movies: recorded disc compatibility proved hit and miss on other players
We had mixed results trying out a finalised Blu-ray disc on other players. Most Panasonic units we tried were fine, except for the SA-BT200. A Sony BD-PS350 played our disc, but the results looked very pixelated, as did a Blu-ray equipped Vaio PC. A Samsung HT-BD1220R spat the disc out, while the BD-P4600 loaded it, displayed a message about an unsupported language, and refused to do any more. While not the most wide-ranging test, given our results – coupled with anecdotal online reports – we'd caution that sharing Blu-ray discs is not going to be plain sailing.
Perhaps more annoying to some is the copy protection that's implemented on Freesat HD programming. Most programmes on BBC HD and ITV HD are flagged as Copy Once. You can make as many SD copies as you, but only one in any of the high definition modes. That obviously helps prevent piracy, but it also means that you can't burn a Blu-ray on your machine, and then copy it back from that disc to the hard drive.
You won't, of course, have that issue with HD material from a camcorder. Indeed, the sizable hard drive, together with support for AVC HD via the SD card slot suggest this model will appeal more to those who want to capture and create their own HD, with Freesat a useful extra, rather than its raison d'être.
Verdict
The DMR-BS850 is certainly a pretty impressive piece of kit, as you'd hope from the first Blu-ray recorder to go on sale. Like its DVD-recording sibling, however, it doesn't have the polished interface that you'd expect from a high-end satellite DVR, and appears more enticing to HD camcorder owners than telly addicts. ®
Thanks to John Lewis, Oxford Street, for letting us use its players to test out our Blu-ray disc recordings.
More Blu-ray Gear Reviews...

Pioneer BDP-51FD
Blu-ray player

LG BE06-LU10
Blu-ray recorder

Group test:
Blu-ray players

Pioneer BDR-203BK
Blu-ray recorder
Sponsored: Minds Mastering Machines - Call for papers now open

Panasonic DMR-BS850
Eye-wateringly expensive, the Freesat features need more polish, but works well as an all-in-one unit, yet lacks a few useful extras.