Panasonic DMR-BS850
Freesat+ Blu-ray recorder with nearly all the trimmings
There's also an extensive menu of options for the audio playback on Blu-rays, allowing you to request that some of the newer formats be downmixed automatically, which could be handy if you have an older surround processor. We'd quite like to have seen a built in decoder too, with multi-channel analogue audio outputs, but that would perhaps have cluttered the back panel.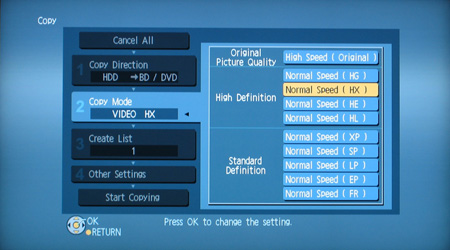 You can re-encode HD material to fit more on a disc, but you can't save it to DVD
The DMR-S850 does not support DVD-Audio and SACD formats either. SuperVideoCD and the like, is also incompatible. To be fair, not many BD players do support legacy formats, but when you're paying this much, we think you're probably entitled to expect that it will play back all the media you've bought over the years.
Recording from Freesat is a doddle, and the automatic programme tracking ensured that when the athletics over-ran, we still got the whole of our scheduled recordings from BBC HD. To all intents and purposes, the user interface is the same as the DVD recording DMR-XS350 too, complete with the somewhat pregnant pauses when you switch between tasks, and the wait of several seconds to go into live pause.
Where things differ, of course, is in the support for Blu-ray discs. In fact, we suspect that a lot of the code is the same between both machines. Certainly, when copying recordings to DVD on the DMR-XS350, lots of high definition options appear, but they're not selectable, but they are accessible on the DMR-BS850.
You can copy a recording from an HD channel as a bitstream, so it's not re-encoded, and the copy will complete faster than real time. It takes about 39 minutes to copy 1hr 40mins of HD programming, or 40 per cent of running time. Re-encoding, but still in HD, is a real-time process.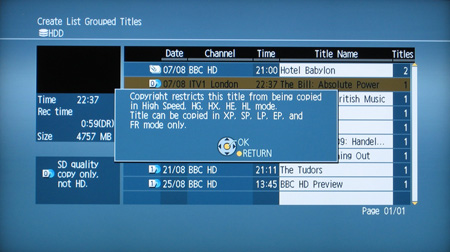 Freesat HD programming is copy protected, so you can only make a single HD disc
However, this is one area where users are likely to run into some annoyances. The cost of Blu-ray media is still pretty high and the cheapest we've found is a little under £4 for a 25GB disc. Panasonic's own web shop will set you back twice that, and more for re-writable ones.
Sponsored: Minds Mastering Machines - Call for papers now open