Sony launches almost-flagship DSLR
Alpha 850 to Alpha 900 features at a lower price
The Sony Alpha digital SLR range continues to expand, this time with the launch of a cut-down version of the a900 called, cunningly, the a850.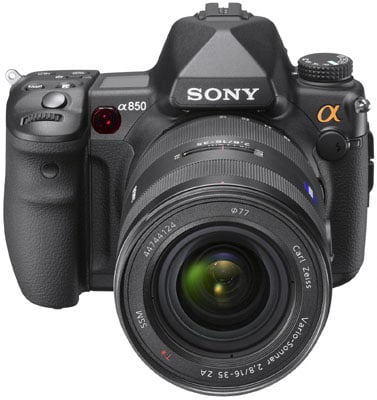 Sony's a850: a multi-feature DSLR with - we hope - a pocketable price-tag
The Japanese electronics giant promised that the a850 boasts "virtually all" of the same features of the flagship a900, such as the 24.6Mp sensor and the aluminium chassis and magnesium alloy shell.
Able to handle a maximum ISO sensitivity of 3200 – or 6400 is you're willing to substitute some megapixels - the a850 will capture both JPEG and RAW image formats and eradicate image noise through a two-stage process: analogue and digital.
Nine auto-focus points are never enough, they say, so Sony's supplemented the points with a further ten "focus assist points" that aid greater subject and out-of-focus detection.
Sony's own alpha lenses, along with auto-focus lenses from Minolta and Konica Minolta, are also compatible with the a850.
Images are displayed on a 3in LCD, while the camera's other notable features include a maximum 3fps shooting mode, CompactFlash – rather than SD – support and that all-important HDMI port.
The a900 carries a steep £2049 ($3316/€2326) body-only price and, hopefully, the a850's price-tag will be rather easier to swallow. Sony wouldn't tell us how much the new model will cost, though, due "anti-competition rules". Sigh. ®
COMMENTS
Gives Canon & Nikon something to think about...
Especially the Nikon d3x - the same sensor, but at almost a quarter of the list price?! Amazing. The reports suggest that the high ISO performance isn't any better than the a900 (no surprise), but the ISO 200-800 is super sweet. Also, the built in IS is a really useful little feature.
Almost enough to make me sell my Canon lens collection and get a a850 instead of the 5dmkII I've been getting hot and sweaty about.