Windows 7: Microsoft's three missed opportunities
At least it's not Vista
In order to make Windows quieter, Microsoft gives the user control over which applications are allowed to show icons and/or notifications, and icons are hidden by default. Although the intentions were good, I have seen users befuddled by the non-appearance of applications that use the notification area. I also suspect that the benefits are temporary.
Vendors will copy what Microsoft has done with Live Messenger. This used to live in the notification area, but now occupies a slot on the taskbar instead. Since it typically runs in the background, it appears there even if the user has not chosen to pin it. Undoubtedly the Messenger team did this because the notification area is now too hidden. Other vendors will follow suit, and the taskbar will be as noisy as the notification area used to be.
Third, Windows 7 has failed to solve a number of long-running annoyances in Windows. These include the fact that file extensions are still hidden by default, and although as George Ou observes this is not as big a security problem as it appears, it is still irritating, especially since hiding the file extension prevents users from changing it if they need to.
Another irritation is Windows 7 has reverted to the My Documents abstraction for a folder that is usually called Documents. Windows Vista actually corrected this. The abstraction is too frail, and some applications show one name, some the other, and some both.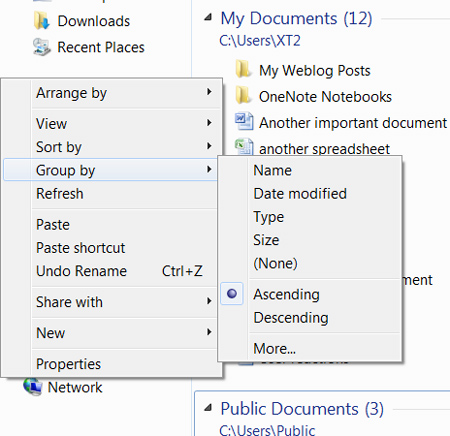 Arrange and grouping options aren't helped by Microsoft's menu allergy
Microsoft's menu allergy also causes problems. IE's menu is hidden by default, and some features are hard to find without it. An example is when managing the new and very useful Libraries feature, which lets you combine several folders into one view. Oddly, a library does not merge its folders into one list by default.
To do this, you need to figure out that there is both an Arrange By and a Group By option, which do different things, and that you have to Group By None. Since the menu bar is hidden, users might not find Group By at all: you have to right-click in the narrow left margin.
None of these are deal-breakers, nor should they cloud the genuine improvements Microsoft has made in Windows 7. It is the best Windows yet, and Windows Vista will soon be forgotten. What Windows 7 demonstrates, though, is that although Microsoft has made progress in usability, there is plenty still to do. ®
Sponsored: Minds Mastering Machines - Call for papers now open