Nokia announces 'N97 junior'
Nokia targets touchscreen buyers
If the mobile phone's your primary instrument for music, photos, video and social networking then you probably own an iPhone. But if you haven't upgraded yet, Nokia hopes to sway you with its latest touchscreen talker, the 5230.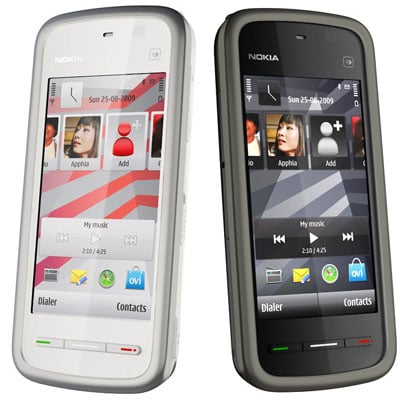 Nokia's N5230 connects into Ovi and supports app downloads
The handset looks much like the N97 - albeit without the slideout thumbpad - and is based around the premise of its swift connections to Nokia's Ovi, where insatiable appetites for downloadable apps, music and games can be cured.
Nokia Maps – a rival to Google Maps – can also be accessed through the 5230, the handset firm promised.
Sadly, Nokia hasn't released many more of the N5230's specifications – well, it needs to hold something back for Nokia World next week – but has claimed that the handset delivers 33 hours of music playback on a single charge of the phone's battery.
Headphones connect into the 5230 through a 3.5mm jack, Nokia revealed, while Facebook, MySpace and all those lesser social networking sites can be accessed through a dedicated UI.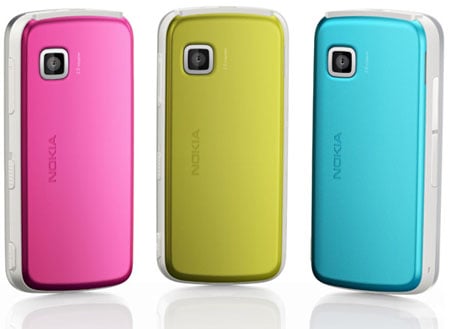 The rainbow-hued range features a 2Mp camera
A specially designed contacts bar also provides you with thumbnail images of up to 20 close friends – handy if you often forget what your chums look like.
Nokia's 5230 will be available during Q4, priced at €149 (£129/$212) unsubsidised. ®
COMMENTS
But in the US...
"Nokia's 5230 will be available during Q4, priced at €149 (£129/$212) unsubsidised."
$212 is just a straight GBP to USD conversion - more likely in the US it won't come onto the market until 2nd Q 2010 and will cost twice that much. But it's for our own good.
@Version 1.0
Prices in brackets are always Reg Hardware's own conversions, based on the exchange rates at the time of publication and provided for information. When we have been given prices in multiple currencies, we don't put them in brackets.
To recap:
£xx ($yy/€zz) - costs xx in the UK, which is the equivalent of yy and zz in those currencies.
£aa/$bb/€cc - costs aa in the UK, and bb and cc elsewhere.