EMC makes Clariion VMware-aware
Whilst Dell CX4 arrays plan more time doing nothing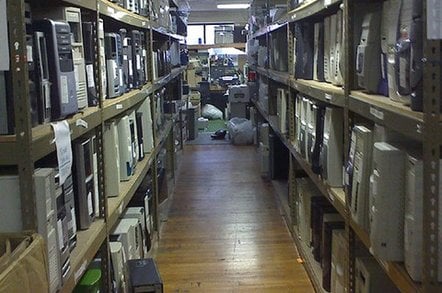 EMC has added faster I/O modules to its Clariion storage and made Clariion software more VMware-aware.
It is adding a 10Gbit/E UltraFlex I/O module to support iSCSI access. An 8Gbit/s Fibre Channel I/O module was added last quarter. The company will add a Fibre Channel over Ethernet (FCoE) module providing a native FCoE interface next year; vague timing. It says up to eight times more virtual machines can be supported by a Clariion array because of these faster I/O modules.
On the software front Clariion Replication Manager now provides instant and image-level recovery of VMware virtual machines.
RecoverPoint Replication integrates with VMware's vCenter server and shows the replication status of each virtual machine, and can identify unprotected virtual machines. Admin staff can manage replicated storage for virtualised and physical servers from a single view and EMC claims it is the only such software integrated with vCenter for automated VM replication management.
Navisphere Manager is also more VMware-aware and provides faster access to virtual machine data. EMC says the discovery and reporting of VMware environments and the mapping to backend storage of a 10 VMware ESX server environment can go from 200 screens before to 2 screens now. Data had to be manually exported to a spreadsheet before; now it can be automatically exported in Excel or CSV format.
Navisphere automatically discovers and maintains relationships between the logical and physical environments, again speeding up admin tasks.
Ruya Atac-Barrett, Clariion product marketing director, said: "We intend to extend support to Hyper-V," and perhaps other hypervisor environments.
Dell and spin-down
In a parallel announcement, Dell, which sells Dell/EMC Clariion CX4 arrays, said it expects to see drive spin down as a standard feature of the CX4 series arrays within the month. It said drive spin down enables customers to easily set policies for drives to power down when not in use.
EMC's own Clariion announcement said nothing about this. Spin-down was added to CX4 arrays for Disk Library use last year.
According to Bill Mottram, the spin-down feature will be standard in all CX4s. The spin-down policy is set at the RAID group level and the group automatically spins down after a 30 minute idle period. He says EMC has spin-down-aware "applications ready to go including Networker, Documentum Content Manager, DiskXtender for Windows and the version for Unix, General Purpose NT Filesystem, (and) CIFS/SMB File Shares. Work is in progress with Celera FileMover, Avamar, SourceOne, MFST SQL, MFST SharePoint and MFST Exchange."
Dell has also added new storage consulting services. ®
Sponsored: Minds Mastering Machines - Call for papers now open