Honda Insight five-door hybrid
Less pious than the Prius?
As the Insight's NiMH battery only has a capacity of 580Wh, the lion's share of the work is done by the 1.3l four-cylinder i-VTEC petrol engine, which produces 88bhp at a rather high 5800rpm and 89lb-ft of torque at 4800rpm.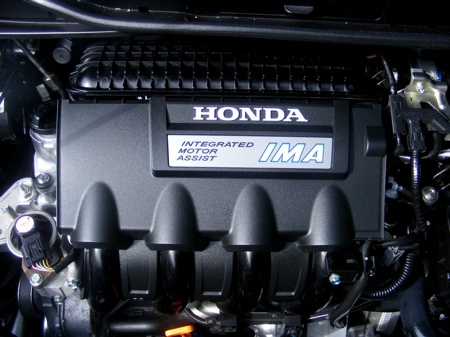 The leccy part
Looking at those figures, you'd expect any sort of urgent progress to be accompanied by some fierce revving and you wouldn't be disappointed. Being a Honda engine, it revs sweetly and quickly, but with less than 14bhp of 'assistance' on call from the electric motor, if you press on it rapidly becomes obvious you are driving a rather large car with rather a small engine.
The petrol and electric motors are joined at the hip by a constantly variable transmission (CVT), a design that by its very nature exacerbates the revs-before-progress feel of the car. Honda says the Insight will get to 62mph in 12.5 seconds and roll on to a top speed on 113mph, but in day-to-day use it actually feels rather slower than those numbers suggest.
While the electric motor assistance is a little on the weak side for effective mid-range acceleration on the open road, the extra power is enough to help make a quick getaway from the lights when driving in town.
During the test, we noticed that the indicated battery charge never seemed to fall below 50 per cent, leading us to wonder if the Insight couldn't also do with a more powerful motor to take advantage of the charge that was just sitting in the battery twiddling its leccy thumbs.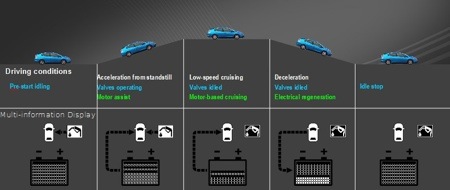 Petrol engine and leccy motor interplay
Assuming you buy an Insight to save on fuel rather than for outright performance, you shouldn't be too disappointed. The very worst we managed was 42.3mpg and that was during two solid days spent driving around central Manchester in very heavy urban stop-start traffic. On the open road, the best we managed was 55.3mpg, while the average during our week with the car was 49.8.
Sponsored: Minds Mastering Machines - Call for papers now open