Honda Insight five-door hybrid
Less pious than the Prius?
For good or ill, Honda has decided to turn the Insight's highly illuminated and colourful dash into what it presumably thinks is an environmentalist's delight. So beyond the floating LED speedometer that changes its ambient glow from green – all is well with the biosphere - through pale blue to dark blue – you are single-handedly causing a Malthusian crisis with your driving style - you also get 'awarded' tree-like symbols with various degrees of foliage to rate how environmentally friendly your driving style is. If it all sounds a bit patronising that's because it is.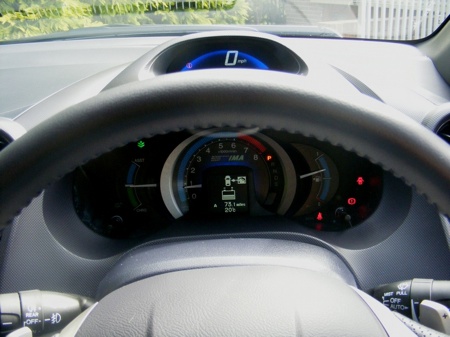 A slightly patronising dashboard
Despite not trying to be overly environmentally responsible, we still managed to get four trees out of a possible five during our test, suggesting the regime isn't all that stringent. Get all five trees and, when you switch the engine off, a little trophy appears. Seriously, it does. This sort of Tamagotchi twaddle may play well in the Asian market but we doubt it will here.
Of rather more use is the screen on the multi-function display that shows you how power is flowing between the engine, battery and regenerative braking system. A gauge to the left of the rev counter gives a more detailed illustration of the degree to which the battery is being either depleted or charged.
The Insight also has a big green ECON button. Hit this and the engine management system and transmission profiles alter themselves subtly to improve economy. To be honest, we couldn't feel any difference between having the system on or off and were left wondering why ECON wasn't simply the default - and only - setting for the power train.
Patronising dash aside, the interior of the Insight is generally a nice place to be. The seats are very comfortable and supportive; cup holders and cubbyholes abound; the steering wheel is both the right size and thickness and comes with all the built-in controls you would expect, including those for the stereo and cruise control. The only blemish is the exposed cigarette lighter which looks like it has come from a 1985 Accord and single-handedly blights the cabin's feeling of quality and modernity.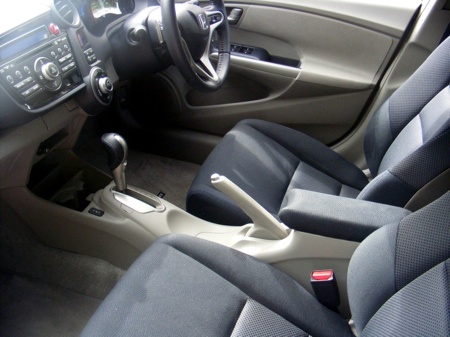 A nice place to be
The ES and ES-T trim levels come with a seven-speed flappy paddle transmission override. Fun though this can be – for a short while, anyway – we aren't entirely sure why it's being offered on car designed to be as economical as possible as all it really does is encourage you to trash your fuel economy.
Sponsored: Minds Mastering Machines - Call for papers now open