Honda Insight five-door hybrid
Less pious than the Prius?
Review In the race to popularise the hybrid, Honda has been shown a clean pair of heels by Toyota. This situation is graphically underlined by the fact that Toyota's Prius is currently on its fourth incarnation since its launch in 1997, while the Honda's Insight is only on its second since 1999. Between 2006 and the launch of the new model, the Insight didn't exist at all.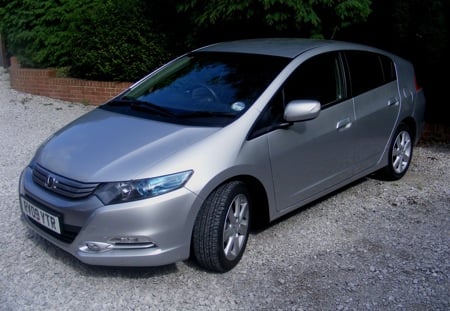 Honda's Insight: hard to tell apart from the Prius?
So has the new Insight been worth the three-year wait?
It probably wasn't ideal timing for the new Insight to arrive on the forecourt at the same time as the latest Prius. After all, they look alike, have broadly similar powertrain concepts and are probably the only two hybrids the man in the street could name if you stopped him and asked.
The Insight's exterior styling is certainly eye-catching but it's also not wholly dissimilar - again - to the latest Prius. Honda prefers to emphasise the Insight's similarity to its hydrogen-powered big brother, the FCX Clarity. Line all three cars up and remove the badges, and many people would struggle to tell them apart, suggesting that this is the shape you get when you ask a large computer to design an aerodynamically efficient five-door hatchback.
Honda hasn't revealed the Insight's coefficient of drag, but we'd be very surprised if it's far off the Prius' figure of 0.25 – an identical figure to that of the original and ruthlessly streamlined Insight. Unlike the Civic Hybrid, the Insight doesn't use wind-cheating wheel trims. Apparently, European car buyers think they are as ugly as sin.
Slippery the design maybe, but that wind-cheating roof line and narrow rear comes at the expense of rear visibility which is very poor and made worse by the solid bar that divides the upper and lower parts of the tailgate window. Even with the elephant-ear wing mirrors, reversing can be a worryingly hit and miss affair.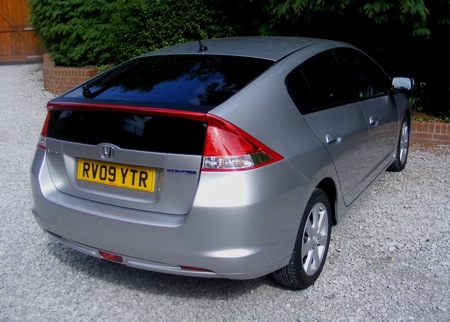 The slippery design comes at the expense of rear visibility
Hybrid electric drive comes courtesy of a 13.8bhp (10.3kW) electric motor that also produces 58lb-ft of torque. That's a considerably less powerful leccy motor than the one to be found in the Prius, which is rated at 80bhp and 153lb-ft.
Sponsored: Minds Mastering Machines - Call for papers now open