Samsung S8000 Jet
Pokey processor eclipsed by user friendliness?
The Smart Unlock feature allows you to unlock the phone by drawing a key letter on the locked screen. Handwriting recognition is pretty decent on the handset too, although we found it worked best with a fingernail rather than fingertip. You can use the phone's accelerometer to allow you to flip between applications by flicking the handset to the right or left. It's okay, but not really a substitute for pressing a button.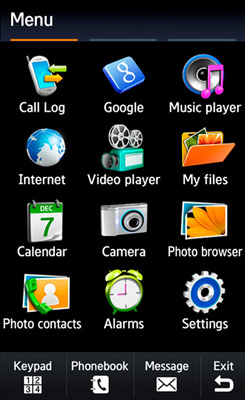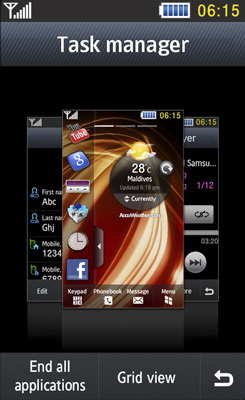 Apart from the Wi-Fi set-up, operation is intuitive
There's also a set of three icon-based menu pages. The menu button that sits next to the camera shutter on the side, opens a cube-based interface that you can rotate sideways and up and down to access the media and entertainment functions. It looks sparkly, but it's not really necessary.
The animated cube does something to show off that 800MHz processor on board and, sure enough, we couldn't really fault it for speed. Graphics never seemed to drag, videos played smoothly and web pages rendered quickly enough. But while we didn't have any problems relating to the processor, we couldn't, hand on heart, say that it was noticeably quicker than other handsets either.
Setting up the Wi-Fi connection isn't quite as straightforward as hoped, and there was a bit of fiddling around with menus to be done before we could get access to full broadband on this quad-band, HSDPA 3G handset. Once configured, however, the browser proved to have a good level of intuitive, time-saving features.
You can switch the address bar to accept Google search and on-page text search as well as URLs and have several pages open at once. The buttons on the onscreen Qwerty keyboard are a little tight, but it flags up the letters as you press them and includes handy shortcuts like www. and .com.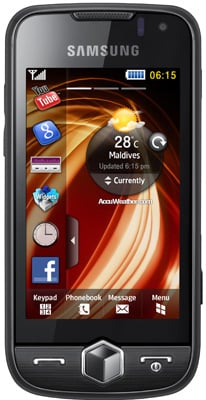 The speedy processor doesn't compensate for the touchscreen response shortcomings
The browser will play Flash video and you can also zoom using the volume rocker or by pressing and holding the screen, though accessing links could be a bit hit and miss, due to the less than sensitive screen.
Sponsored: Minds Mastering Machines - Call for papers now open