Bose updates high-end headphones
Less distraction, more music
Headphone manufacturer Bose has upped the ante in disturbance elimination, launching what it claims are its best performing and quietest cans to date.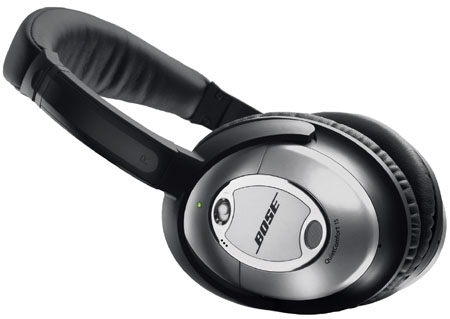 Bose's QuietComfort 15 cans: loud, proud and very comfy
The QuietComfort (QC) 15 Acoustic Noise Cancelling headphones surpass Bose's previous models by, the firm said, offering greater attenuation in louder environments and across a wider range of frequencies.
Exactly how this achieved, Bose isn't willing to say. But the firm did let slip that the QC 15s debut a more sophisticated approach to active noise cancellation resulting in "instant by instant" sound measurement, comparison and reaction - which is what all the others do, surely?
Bose has also updated each earcup with new ear cushions, providing greater additional passive attenuation too.
The upshot of all the improvements is that it should now be much easier to envelop yourself with silence during flights, or to drown out the vacuum cleaner as you enjoy a little rock'n'roll.
The headphones are powered by one AAA battery, which Bose claimed will give you 35 hours of acoustic life.
Bose's QuietComfort 15 Acoustic Noise Cancelling headphones replace the QuietComfort 2 model, it should be noted – yet don't cost one cent more. You can grab the firm's latest cans now for $300 (£181/€210). ®
COMMENTS
£249 in the UK on bose.co.uk, and I think my wife paid more in their shop.
Thats for the Acoustic 2, nowhere near £181 even allowing for VAT when it goes back to 17.5%. I wouldnt be surprised if the new ones were even more.
Another purchase lost to the UK subsidiary then and something to get on my next US trip. I should feel guilty about the loss of revenue to the local economy (after all it all adds up) and tax base, but given how shops in the UK and HMG just rip us all off, I dont.