So there we have it, the new Intel SSD is a triumph when it is compared to its predecessor. In terms of performance, it is beaten by the likes of the Patriot Torqx, but the low price of the new Intel drive makes it a better overall deal.
Price Matching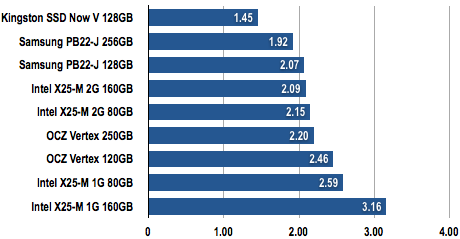 Price per Gigabyte
Shorter bars are better
That should be the end of the matter. However, Intel announced a worrying problem with the initial release of the new SSD. If you set a Bios protection password, then change or disable the password and then turn off the power, "the system may become inoperable".
We thought we'd try to replicate the issue. We created, changed and deleted Bios passwords with gay abandon and found absolutely nothing amiss. We wouldn't suggest you ignore Intel's warnings, but it seems to us that the issue isn't as cut and dried as change password, lose data.
Fortunately, Intel has now posted a firmware fix, taking the drive's on-board software from 2CV102G2 to 2CV102G9. That, it says, is all you need to be safe.
Verdict
Intel's 34nm Flash memory die-shrink has increased the performance of its revamped X25-M and at the same time made the SSD much cheaper. Excellent news. ®
More SSD Reviews...
| | | | |
| --- | --- | --- | --- |
| Kingston SSD Now V | Patriot Torqx | OCZ Vertex | Samsung PB22-J |

Intel X25-M 34nm Flash SSD
Intel's 34nm Flash memory die-shrink has increased the performance of its X25-M - and made it much cheaper.
COMMENTS
Max latency?
4k Random IO is the most important IO you do on most machines.
The MAXIMUM, not average latency of these operations is critical - remember the original non intel drives? Really fast, then stalled for a second, then really fast...
That seriously illustrated that the relevant benchmarks are not throughput for almost anyone...
wait ...
... ordered a week ago, still waiting. Not in stock!
And I agree, one of the most important figures for system disk is random small write. Old HD-tach charts (continuous read and write) are almost irrelevant for SSD 1. technology is fast enough most of the time anyway 2. they do not catch "stuttering" problem.
Random IO
You review the disks with one perfomance characteristic and for desktops it's the least important.
4k Random IO figures read and write would be nice.
Getting close...
To me jumping up and down screaming "I want I want I want!!"
Why are they not making 3.5" versions of this, packed to the rafters with even more lovely solid state storage?
BIOS issues
To the best of my knowledge Intel hasn't said that a particular firmware version is cursed by the bug however I can state that the drive I reviewed came with firmware 2CV102G2 and the bug fix version is 2CV102G9.