There's no doubt that the performance of the 2G drive has perked up compared to 1G. This is particularly clear when you look at the write performance in HDTach 3 and CrystalDiskMark 2.2 where it used to come in at 70-75MB/s. Write speed has perked up to 100MB/s which is a useful increase. However, it's still a long way shy of the Torqx, which clocks more than 170MB/s.
HDTach Results
Average Data Transfer Speeds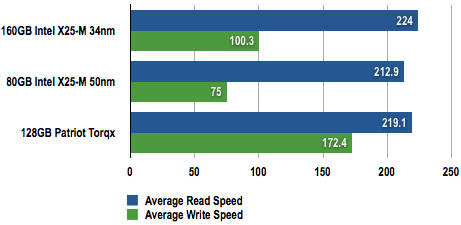 Data Throughput in Megabytes per Second (MB/s)
Longer bars are better
CrystalDiskMark 2.2 Results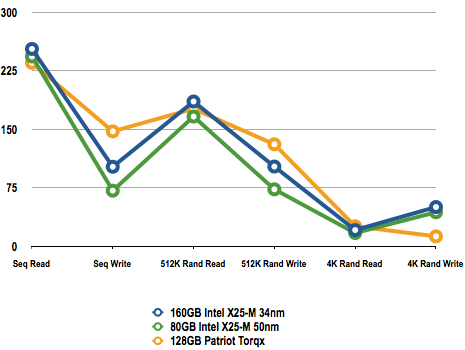 Data Throughput in Megabytes per Second (MB/s)
Higher points are better
Those synthetic benchmarks emphasise differences that you can see in real-world tests and in particular when you copy files on the drive. The 1G Intel does quite poorly in this type of file transfer test, but the 2G is much faster and is nearly on an equal footing with the Torqx.
The third group of tests involves the transfer of 2GB of files from one drive to another. When we moved files between the Torqx and the two Intel drives, it was clear that the 2G drive wins out over the 1G in all departments.
2GB File Transfer Results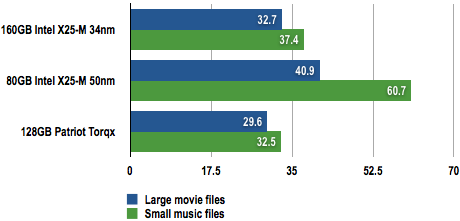 Transfer time in Seconds (s)
Shorter bars are better
COMMENTS
Max latency?
4k Random IO is the most important IO you do on most machines.
The MAXIMUM, not average latency of these operations is critical - remember the original non intel drives? Really fast, then stalled for a second, then really fast...
That seriously illustrated that the relevant benchmarks are not throughput for almost anyone...
wait ...
... ordered a week ago, still waiting. Not in stock!
And I agree, one of the most important figures for system disk is random small write. Old HD-tach charts (continuous read and write) are almost irrelevant for SSD 1. technology is fast enough most of the time anyway 2. they do not catch "stuttering" problem.
Random IO
You review the disks with one perfomance characteristic and for desktops it's the least important.
4k Random IO figures read and write would be nice.
Getting close...
To me jumping up and down screaming "I want I want I want!!"
Why are they not making 3.5" versions of this, packed to the rafters with even more lovely solid state storage?
BIOS issues
To the best of my knowledge Intel hasn't said that a particular firmware version is cursed by the bug however I can state that the drive I reviewed came with firmware 2CV102G2 and the bug fix version is 2CV102G9.