Capital markets recover but tech must wait for cash
VCs and private equity get pickier, survey shows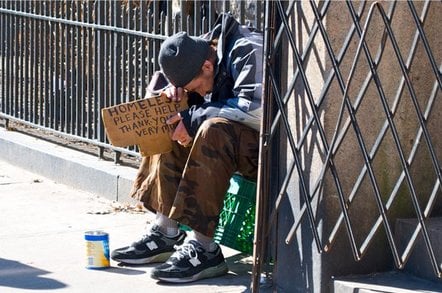 The economy may be looking up but the ever cash hungry tech sector will have to wait before the capital markets begin loosening their purse strings.
The French and German economies are exiting their recessions and delivering three-tenths of a per cent of gross domestic product growth in the second quarter, and the Blue Chip Economic Indicators survey of economists suggests the US economy will pull out of recession in the third quarter after GDP in America only contracted by one per cent (compared to 6.4 per cent in the first quarter).
John Paglia, associate professor of finance at Pepperdine University's Graziadio School of Business and Management, is trying to make a career out of tracking what venture capital firms, private equity groups, mezzanine funds, and other kinds of sources of cashish for taking over or building out companies are up to.
Earlier this year, Paglia did a survey of 627 different private capital market players (78 banks, 69 asset-based lenders, 39 mezzanine funding providers, 256 private equity firms, and 185 venture capital firms) and has just released the inaugural (and presumably annual) study that takes the pulse of the private capital markets in the US.
According to the study, which you can get here, the rates of return that these different players expect vary widely. Averaged across the banks that participated in the survey in March and April of this year (split evenly between community banks and commercial banks with some business banks thrown into the mix), the rate of return they expected for their loads was 6.5 per cent.
Only 17 per cent of the loans these banks wrote were for capital to invest in equipment or buildings, and nearly half of the loans they wrote were for refinancing existing loans. Interestingly, 46 per cent of the banks said they expected to get more restrictive in their lending in the next 12 months, and 39 per cent said they would stay about the same; 15 per cent said they would get less restrictive, which, given the economic climate in the past spring in the US, is a little hard to believe.
The tightening of credit has most certainly had a cooling effect on IT sales, particularly as businesses of all sizes have wanted to hoard whatever cash they had and finance the IT gear they needed for key projects that can't be deferred. Hence the IT vendors like IBM, Hewlett-Packard, Dell, and NEC stepping up and offering zero per cent financing (essentially acting as a bank for customers) to keep some deals flowing.
Asset-based lenders (ABLs) also dabble in the equipment markets, and on average, they expect about 12 per cent return on the loans they make for equipment (compared to eight per cent for real estate investments and 18 per cent for loans to boost working capital), according to the Private Capital Markets Project report. Even though 39 per cent of ABLs expect to tighten up their loan requirements, with the majority expecting to be about the same, 97 per cent of the ABLs surveyed said that they expected demand for asset-based loans to increase; not one said there would be a decrease in demand.
The majority of the firms providing mezzanine funding (often in conjunction with private equity firms), told Pepperdine that demand for such loans would increase between the spring of 2009 and the spring of 2010; 86 per cent of them said they expected demand for such funding to increase and 36 per cent said it would stay the same. Not one said demand would go down.
That said, 64 per cent of the mezzanine funders surveyed said they expected to be more restrictive about giving out dough. So demand will not be met by supply, apparently.
Averaged across all respondents, the mezzanine funders responding to the Pepperdine private capital markets survey expected GDP in the US to decline by eight-tenths of a per cent in 2009. (The weighted average of responses from ABLs concerning GDP for 2009 was for a 1.8 per cent contraction, while the average expectation for GDP from the banks polled was for a 1.6 per cent contraction in the U.S. economy this year.)
Like other lenders, private equity firms - which have been the engines behind a lot of consolidation in the IT and other industries in recent years - are expecting more demand for their funds in the remainder of 2009 and into early 2010 at the same time as they expect to be more picky about the companies they are investing in. Some 64 per cent of those polled by Pepperdine said they expected demand for private equity funds to increase, with 19 per cent anticipating little change compared to last year and 17 per cent saying they expected less action.
But at the same time, 66 per cent of the PE firms polled said they would be tightening up, and only seven per cent said they would be less restrictive in handing out cash. On average, the private equity firms expect a 1.8 per cent decline in US GDP in 2009.
Which leaves the venture capitalists, who spread their money all over the economy in the hopes of finding and funding the next big thing. Not surprisingly, the lion's share of venture capitalists hail from California, Massachusetts, New York and Texas, with more than 40 per cent being located in California. Of the 185 venture firms surveyed by Pepperdine, an average of 23.7 per cent of their capital was sunk into software companies, with another 8.1 per cent going into hardware companies, 9.1 per cent going into Web 2.0-style Internet firms, and 9.3 per cent going into clean technology. Venture firms also like to invest in biotech (10.3 per cent of the aggregate capital) and medical devices (13.4 per cent).
VCs are not expecting to cash out in an IPO, this not being the dot-com or any other kind of boom. Only 17 per cent of the VCs surveyed by Pepperdine said they expected to cash out of the companies they invested in through an IPO, and half said they expected to sell the firms they have a stake in to a publicly traded company. Another quarter expects to sell to a privately held firm looking to fill gaps in their product lines or to expand into new markets.
Like other lenders, VCs are anticipating an increase in demand (76 per cent) for venture funds at exactly the same time they pull out their fine-toothed combs and skepticism (62 per cent). The VCs surveyed expect GDP to shrink by 1.6 per cent this year in the States. Despite that, 59 per cent of the VCs say they are going to raise funds this year. ®
Sponsored: Minds Mastering Machines - Call for papers now open