BlackBerry Curve 8520
Rim drops ball
These and other apps are available from the BlackBerry App World site, which has a long way to go to catch up with the iPhone's App Store, but it's easy to navigate and there's a mix of around 800 free and paid-for apps available for the 8520 from about 2,000 across the entire BlackBerry range.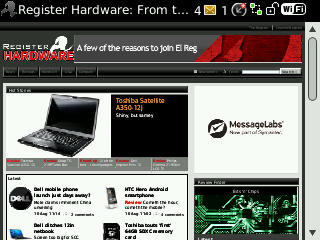 The trackpad offers different vertical and horizontal speeds – ideal for browsing
The supplied BlackBerry Desktop Manager software handles all the Windows PC contacts and media syncing, and there's good news for Mac users too. Currently, Rim offers PocketMac on its BlackBerry site for free – a seemingly promising third party app that works for some and not for others, quite a lot of others it appears. Evidently, PocketMac's idiosyncrasies have not been lost on Rim, as it plans to deliver its own BlackBerry Desktop Manager software for the Mac in September.
The browser is intuitive to use and quick to load, perhaps due in part to the fairly meaty 512MHz processor on board. Of course, this browsing performance was when Wi-Fi was in use, as there's no 3G network connection on this quad-band GSM handset. The cursor whizzes around the screen at an extremely fast rate and you can zoom in at any time by pressing the nav pad, but you'll need to access the menu to zoom out again.
There's no Flash video and no client available for watching BBC iPlayer, though viewing YouTube content, which is also offered in H.264, presented no problems so long as we were hooked up to our Wi-Fi connection. The camera is a surprisingly underpowered at 2Mp with no flash, which even on an entry-level smart phone seems a bit paltry these days.
Despite the low megapixel count, pics taken at the maximum 1600 x 1200 resolution, aren't bad, with reasonably sharp edges and strong, if not stunningly accurate colours in good light. There's nothing really in the way of extras except for the 5x digital zoom which can be operated by the volume controls or the track pad. Video is in 320 x 240 pixels and the quality drops somewhat but you can just about get away with it for YouTube.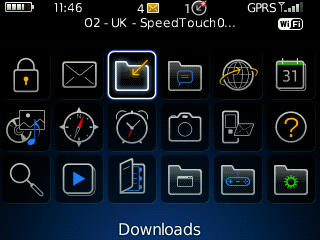 The BlackBerry App World site offers options to fill up the menu
Watching video on the Curve 8520's screen is okay, but its dimensions mean that movie trailers in widescreen can end up looking pretty cramped with heavy black bars above and below. The media player can handle MPEG4, H.263, H.264, AVI and WMV3 video files, with MP3, AAC-LC, AAC+, eAAC+, AMR-NB and WMA9/10 for music.