BlackBerry Curve 8520
Rim drops ball
The Curve 8520 comes with 256MB of memory on board and, we're assured by Rim, it will have a 2GB microSD card, regardless of the network deal you get. But if you need more storage, it will accept up to 32GB cards.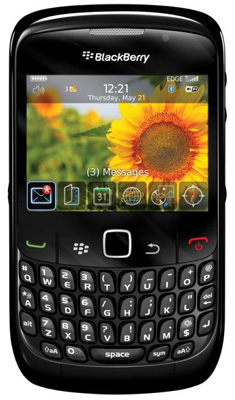 A clear and bright screen, albeit a little small
The 2.46in 320 x 240-pixel TFT screen seems a little on the small side, at least compared to the big touch screen smart phones we've been trying recently, but it's bright, clear and detailed, and takes up roughly half the space on the front of the phone.
Around the sides the 8520 is very similar to the 8900, with a programmable 'convenience key' on each side. These keys default to camera and voice control, but can be set to almost anything – plus volume buttons, micro USB slot and 3.5mm headphone jack. The difference is that the buttons are now beneath a moulded rubberised strip that runs around the sides, protecting them from dust.
A new addition to the top of the device is media player controls (play/pause, FFW, RWD) which work well enough, and pressing and holding the play/pause button puts the device into lock mode.
Email and instant messaging, as with all BlackBerrys, is straightforward to set up, either on the handset or using the BlackBerry website. The phone supports all the usual suspects and more, including Windows Live, Hotmail, Gmail, AOL, ICQ, Yahoo and BlackBerry Messenger, and you can have up to ten email addresses on one account.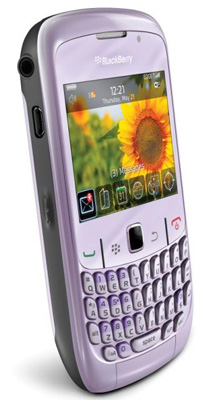 Convenience keys on each side can be assigned for specific tasks
The Curve 8520 comes with a batch of preloaded social networking tools, including TwitterBerry, which is all quick and easy as Twitter should be, as well as an elegantly useful Facebook app, plus MySpace and Flickr too.