US Marines' Afghan robocopter-supply contest down to two
Unmanned air haulage could be cheaper than trucks
But why the sudden urgency?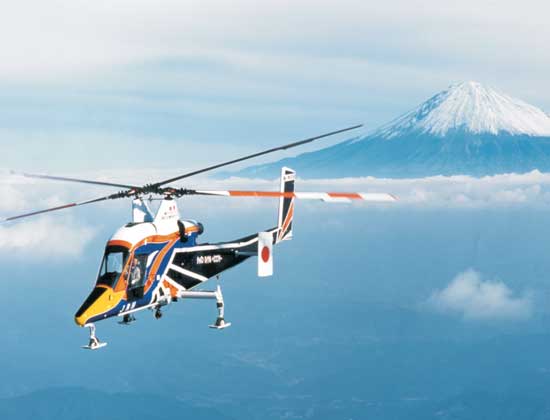 Nice intermeshing rotors: but that human pilot is so old-fashioned
It's hoped that the new robo-lifters can reduce the risks and expense of resupplying troops in the field. Ground supply convoys in Afghanistan must be heavily guarded and nonetheless involve a lot of casualties from roadside bombs and ambushes. The expense of operating protected vehicles on the poor or nonexistent roads of Afghanistan is also very significant.
The alternative, using manned helicopters, involves less risk and less people - aircrews are normally under threat only during drop-offs, and not all that much even then. But manned helicopters are massively costly to run, and one of the main bottlenecks to their use just now is lack of expensive aircrew - the US defence secretary has recently assigned extra cash for training and manpower to get unused choppers into the air. Furthermore, Afghanistan's hot-and-high conditions are a very tough environment for helicopters, cutting into their lifting performance and meaning that the weight of a crew and associated bits and pieces - for instance armour protection, likely to be demanded even though the flyboys' risk is fairly small - becomes well worth getting rid of.
By contrast an unmanned helicopter needs no crew and involves no risks. It needn't have any armour. If supplies are urgently needed, it can be flown into the midst of a hot firefight without a qualm. You could cut corners on maintenance - a very significant cost - without any need to fret about possible dead aviators: instead you could trim procedures to save as much money as possible before the cost of crashes offset any further gain.
Considered overall in terms of blood and money, it seems quite possible - as some people involved are saying - that unmanned air resupply could be cheap compared not only to manned aircraft, but even compared to ground convoys. That would be a serious change to the face of battle.
One also notes that the K-MAX is already heavily used worldwide by logging and mining companies, or others who have to operate where roads are few or bad.
Nobody's saying that robocopters could beat trucks or trains on cost in the civilian world if a truck or train can do the job, of course. But building a road or a railway costs a lot of money. Some research suggests that the overall environmental impact of train+rails or truck+roads is more than that of aircraft.
If the Marines' idea catches on, the human race may sometimes choose in future - when developing and exploiting a new area - to use air lift from the start rather than covering a place with rails or road tar.
On the other hand, it just might be that robotising the trucks will prove more popular, in both military and civilian contexts. ®
Sponsored: Minds Mastering Machines - Call for papers now open