Kyocera FS-C1020MFP
Fast, efficient and well-built all-rounder for small offices
Printed sheets are delivered into an output tray built into the top of the main body of the unit, where they are easy to pick up. There is a flimsy stop flap at the back of the output tray but it does not seem to serve any real purpose, especially since Kyocera has designed the FS-C1020MFP so that you can retrieve printouts from the tray from either the front or rear of the device. To improve access even more from the front, a release catch on the side of the case allows the scanner housing to slide backwards a little.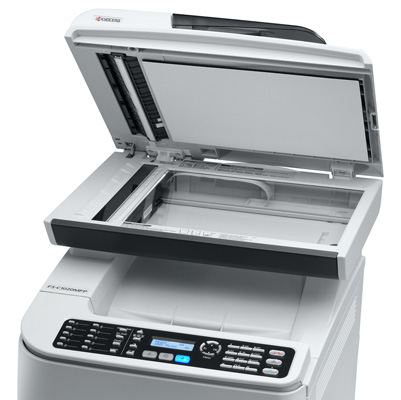 A full A4 scanning plate for items that don't fit the automatic document feeder
The scanner housing incorporates a full A4 glass plate for manual scans, along with a narrow strip for scanning sheets in conjunction with the automatic document feeder (ADF) on top. The ADF is moulded from thick plastic and feels strong and resistant to accidental breakage from rough use. Even the paper width guides slide back and forth smoothly, giving an impression of quality manufacture. You can stack a good 30 or so sheets in the ADF and scan or fax them as double-sided.
The FS-C1020MFP also supports double-sided (duplex) printing, doing so in a slightly curious manner: as one side is printed, the sheet emerges onto the output tray, whereupon it is drawn back inside for printing onto the other side and delivered to the output tray again.
Another example of clever design can be seen in the way Kyocera designed the FS-C1020MFP to open up at the front and top, providing almost completely unrestricted access to the interior. Four toner cartridges slot in place without any fussing about with clips or cages, making the process of replacing consumables easy enough for anyone in the office to handle.
The toner cartridges are quite expensive: the 6,500-sheet black cartridge costs £109 while the 6,000-sheet cyan, magenta and yellow cartridges cost a toe-curling £143 each. That said, one of the famous benefits of Kyocera's 'Ecosys' technology is that there are no other consumables to purchase – no waste toner bottles, imaging drums or belts.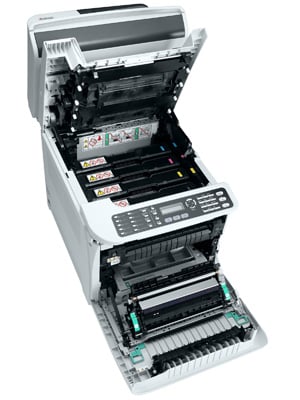 Toner cartridges just slot into place from above: no catches, toggles or cages to deal with
This means the FS-C1020MFP's average price per single-sided A4 printout (not including paper cost) comes to approximately 9p. This compares fairly with similar colour laser MFDs from manufacturers, such as Brother, whose cost per printout tends to be just under 10p. Fewer consumables in the FS-C1020MFP also means fewer parts to order and get delivered, less packaging and so on, all of which have an environmental impact.
Sponsored: Minds Mastering Machines - Call for papers now open