HTC Hero Android smartphone
Cometh the hour, cometh the mobile?
The Hero is big on social networking and has Facebook, Twitter and Flickr elements incorporated into the Sense UI. Each of your contacts, for instance, includes an option to slide across for updates from Facebook, and it will even suggest Facebook friends for you to add.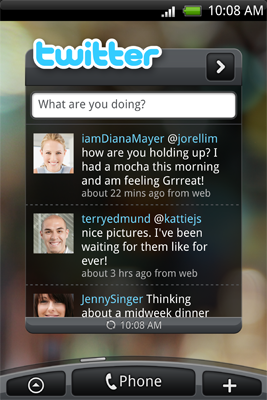 Social networking features abound on the Hero
A TouchFLO 3D-style scroll bar along the bottom of your contacts allows you to search for Facebook updates and also download pics from their Flickr account if they've made it public. There's also a rolodex-style favourites bar on one of the home pages that allows you to flick through your main contacts easily. Twitter with HTC's Peep app works well and is easy to set up too. You can choose how many Tweets you want to be able to view (up to the last 250) and how often you check for new Tweets.
When you call up the onscreen phone keypad you'll also get a small preview window of your contacts, complete with Facebook picture, making it easy to flick though to your next call. The Hero takes social contact very seriously, and makes it both easy and fun. Setting up gmail is a virtual no-brainer and the Hero holds your hand throughout the process of accessing an existing account or setting up a new one. Setting up a standard POP3 e-mail account was no less easy, requiring just email address and password to get it up and running and there's support for Microsoft Exchange too.
All this social interaction of course requires a decent Qwerty keyboard and while the Hero's is a little cramped in portrait mode, it's easy enough to use in landscape. It highlights each key, iPhone-style, as you press them and also offers suggestions for suitable words as you type. It's a lovely UI, but it's also a very busy one that obviously requires a lot of processing. Unfortunately, the Hero all too often lets this be known by dragging its heels through the menus and home pages, with gaps of a second or so giving the feeling that it's struggling when accessing apps.
While it has a perfectly decent 528MHz processor on board – the same as most other HTC devices – it's put firmly in the shade by Samsung's new Jet with its 800MHz chip. Furthermore, the Hero only has 288MB of RAM and 512MB of ROM and really could have done with a bit more poke to cope with the UI and all the multitasking you're tempted to do.

Seven screens of separation: multitasking could be struggle
Adding apps is straightforward and easy, however, using the Android Market store. It doesn't have anything like the size and variety of Apple's App store yet, but there's a strong base to build on. Android's open source disposition means there are new apps being added every day, and with a dozen or so Android phones due to hit the shops this year, this is only likely to increase.
Sponsored: Minds Mastering Machines - Call for papers now open