Launch your own satellite for only eight grand
Prospective world domination candidates apply here
Interorbital Systems is offering your own orbiting satellite for only $8,000, including launch, though evil geniuses might balk at the expected 2-week lifespan before a fiery re-entry.
The plan is to launch 32 of the diminutive TubeSats into low earth orbit, around 310Km up, using a single Neptune 30 launcher (under development by Interorbital). The Neptune 30 will time release the TubeSats into orbits that decay within a few weeks, after which they'll burn up re-entering the Earth's atmosphere.
The cost of each one is $8,000, though you'll have to pay up front to guarantee a launch slot, and put the satellite together yourself from the supplied kit. Stil, at least Interorbital Systems accepts PayPal.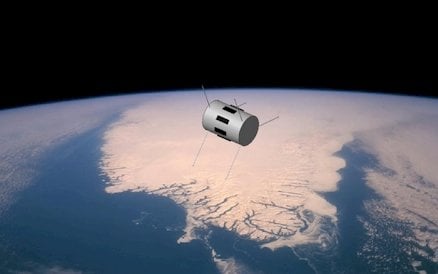 Doomsday weapon in position: artist's impression
Fitting a doomsday machine into the 13.5cm long TubeSat, which is only 8.7cm wide, will challenge plans for world domination, but that will be where the "genius" comes into play.
The company suggests you might use your TubeSat for everything from "Earth-from-space video imaging" to "private e-mail" or "On-orbit advertising", though we're not sure what the audience figures would be for the latter. More realistically, buyers might like to bounce amateur radio signals off their own bird, or try experiments within orbital conditions.
The radio aboard the TubeSat will operate at 902-928MHz or 2.4-2.4835GHz, the latter being ideal for Wi-Fi, as well as covering the bands allocated for amateur satellite operations - allowing Hams to fly even if pigs can't. Full specifications are available from Interorbital (pdf).
Not that professionals will be allowed to buy TubeSats: "The listed price is not valid for military, governmental, or large corporate entities. Members of these organizations should contact Interorbital Systems if interested in purchasing a TubeSat".
Interorbital Systems has some form in space operations. It was a competitor in the X-Prize, and has entered Google's Lunar X-Prize to retrieve a bit of the moon. More practically, the company has been testing engines in the Mojave desert, but the TubeSat launches planned for next year will be the first time the company has flown a bird, even a small one. ®
Sponsored: Fast data protection ROI?