Tipping our scales at 2.9kg, the Satellite A350 isn't the kind of laptop you'll want to drag with you on the daily commute. In our tests, which involve PCMark05 running in a loop with the screen at full brightness and Wi-Fi switched on, it only managed to stay alive for 76 minutes. So it's best to see this is a laptop that will spend most of its time rigged up to the mains.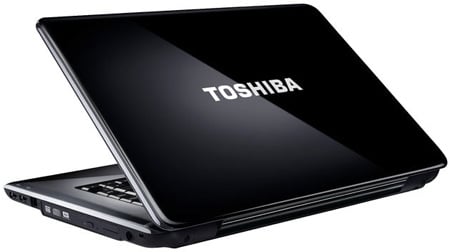 A surprisingly smudge-resistant glossy coating
Toshiba isn't shy when it comes to preinstalled software. Microsoft Works and Ulead DVD MovieFactory are the two headliners, while the seemingly endless list of Toshiba utilities includes such marvels as Disc Creator, Toshiba Assist and Connectivity Doctor. You also get the Face Recognition utility, which uses the webcam to attempt to figure out who's sitting in front of the laptop. Naturally, you also get wonderful time-limited trials of McAfee and Office 2007.
Verdict
If you can get used to its shiny and somewhat slippery keyboard, the Satellite A350-12J is a solid notebook that performs reasonably well as long as you're not into gaming. The problem is that there's nothing that really makes it stand out from the crowd, and at this price we had hoped to see some form of discrete graphics. ®
More Notebook Reviews...

Samsung R522

Dell Studio 15

Acer
Timeline 4810T

Asus N50vc

Toshiba Satellite A350-12J
A decent performer, let down by its integrated GPU and lightweight battery life.
COMMENTS
This model highlights why we always buy Tosh
solid, reliable, dependable hardware.
Yeah, it's not gonna win any speed awards, but chances are it won't give your sysadmin any nasty suprises like the truly awful Atheros wifi cards, that refuse to connect until AFTER the user has logged in, and only using their 3rd party software, or some bleeding edge nic that isnists on trying to use IPv6 on your IPv4 lan, or some power management feature that completely breaks when you downgrade to XP, or a screen so "slimline" the user will break it within a week.
Sony and Apple, go stand in the corner of shame!
Despite its looks this is a corporate lappy, and as such has been built with tried and trusted hardware. It'll make the user feel special without breaking the bank, or causing further hairloss for your over-stressed sysadmin.
@hmm
That'd be me then... Feel free to send one whenever you like :)
hmm
Makes an expensive practical joke, but buy it for someone who hates finger prints and has OCD.