It's certainly not a speed demon then, but Vista trundles along nicely. Start hurling processor-intensive tasks at it, though, and it will start to struggle. PCMark05 returned an overall score of 4548, which is further indication of the A350's middle-of-the-road performance.
PCMark05 Results
Overall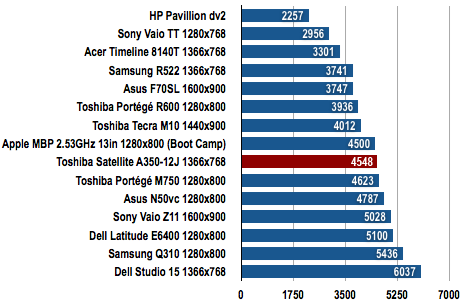 Longer bars are better
CPU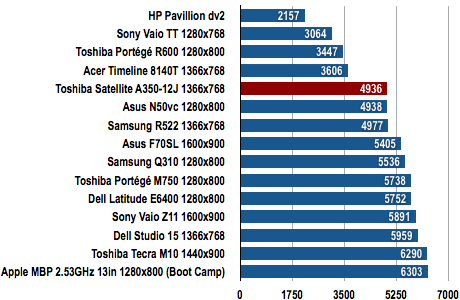 Longer bars are better
Memory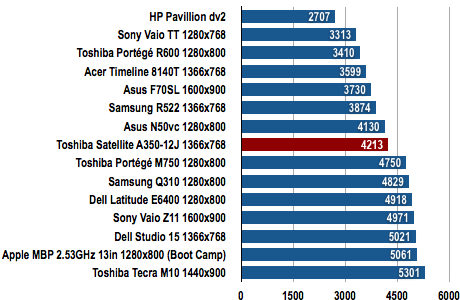 Longer bars are better
Graphics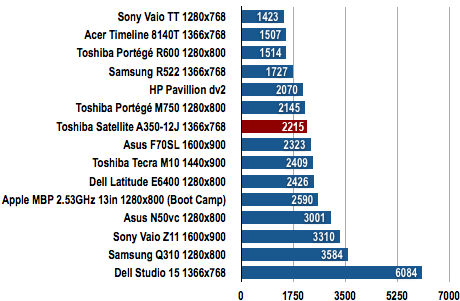 Longer bars are better
HDD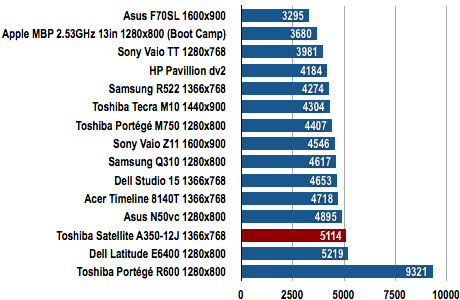 Longer bars are better
3DMark06 Results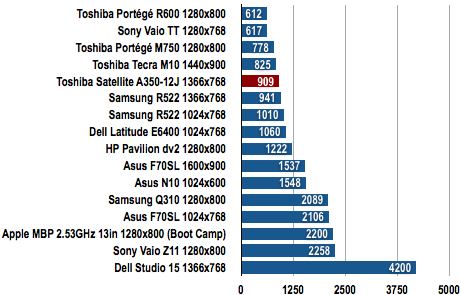 Longer bars are better
Battery Life Results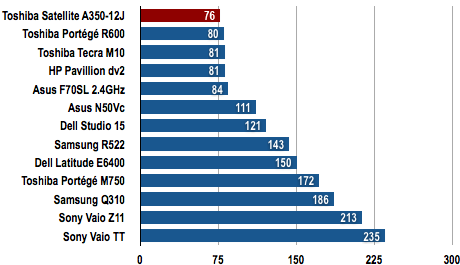 Longer bars are better
The relatively poor result of 2215 in PCMark05's graphics test is down Toshiba's decision to cut costs and go with Intel's integrated chipset. As expected, 3DMark06 proved to be a similar struggle for the A350, with a score of 971 at 1280 x 720. So, while fine for general Windows tasks, a gaming machine the A350 is not.
COMMENTS
This model highlights why we always buy Tosh
solid, reliable, dependable hardware.
Yeah, it's not gonna win any speed awards, but chances are it won't give your sysadmin any nasty suprises like the truly awful Atheros wifi cards, that refuse to connect until AFTER the user has logged in, and only using their 3rd party software, or some bleeding edge nic that isnists on trying to use IPv6 on your IPv4 lan, or some power management feature that completely breaks when you downgrade to XP, or a screen so "slimline" the user will break it within a week.
Sony and Apple, go stand in the corner of shame!
Despite its looks this is a corporate lappy, and as such has been built with tried and trusted hardware. It'll make the user feel special without breaking the bank, or causing further hairloss for your over-stressed sysadmin.
@hmm
That'd be me then... Feel free to send one whenever you like :)
hmm
Makes an expensive practical joke, but buy it for someone who hates finger prints and has OCD.