Toshiba Satellite A350-12J
Shiny, but samey
In the hope of appealing to movie buffs, Toshiba has given the 16in screen a 16:9 aspect ratio, however it's not a full HD display as the native resolution sits at 1366 x 768. Given the shiny nature of the A350, the fact the display has a glossy finish is no surprise, and with decent horizontal viewing angles you'll be able to share a film with friends.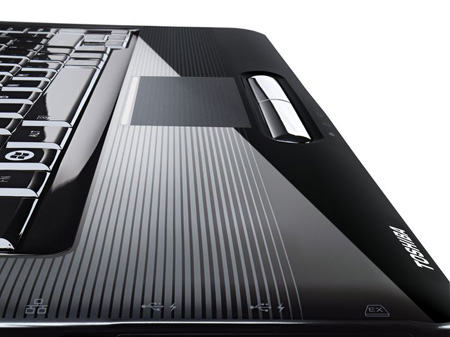 The decent-sized trackpad feels good
There's also an HDMI output – something the earlier Satellite A350 models missed out on – so if the 16in screen isn't doing your film justice you can send audio and video direct to your HD television with just one handy digital cable. As is the norm with Toshiba laptops, volume is controlled using a traditional-style wheel at the front of the chassis. Here you'll also find a card reader, audio in/out sockets and a Wi-Fi power switch.
Given the size of the Satellite A350, it's good to see Toshiba has managed to find room for four USB ports (two on either side of the chassis) along with mini-Firewire. And if the preinstalled 250GB hard drive, which ticks along at 5,400rpm, isn't big enough for you, one of the USB ports doubles-up as an eSATA port, allowing for fast external storage to be added. Should you want to archive stuff instead, there's also a DVD burner – Toshiba is still in mourning over the death of its beloved HD DVD, so Blu-ray is out of the question.
802.11n wireless is provided by the Intel Wi-Fi Link 5100 module, but for some reason Toshiba has opted for plain old 10/100 Ethernet instead of Gigabit. Not a huge deal, admittedly, but if you've got a Gigabit router it's a shame the Satellite A350 won't be able to put it to full use.
Perhaps more surprising is the lack of Bluetooth, which means you'll have to resort to a USB module if you want to sync your phone or attach a Bluetooth wireless mouse, for example. VGA-out, a 54mm Expresscard slot and a good old 56k modem wrap up the list of ports and sockets.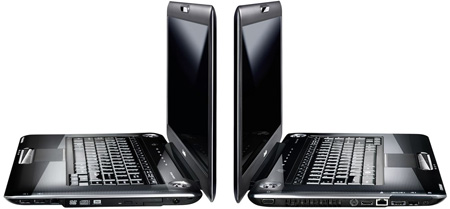 Blu-ray still not welcome on Tosh laptops
With a bus speed of 800MHz and 2MB L2 cache, the 2GHz Core 2 Duo T6400 sits towards the lower end of Intel's mobile processor line up. Both SO-Dimm slots are filled, providing the CPU with 4GB of DDR2 memory – the installed 32-bit Vista Home Premium ignores a quarter of this – while graphics is taken care of by Intel's GMA 4500MHD chipset.
Sponsored: Minds Mastering Machines - Call for papers now open