Qnap TS-219P Turbo Nas
A box of delights?
The main setup pages have an overwhelming range of settings available for tweaking. The web server – with php and mySQL support – settings sit here. Simply enable the server and drop html and php files to the Qweb folder and you're away. There are also configuration options for iTunes, FTP and FTPES servers, IP camera support, remote Nas replication, Telnet, system logs plus hard drive and Raid information.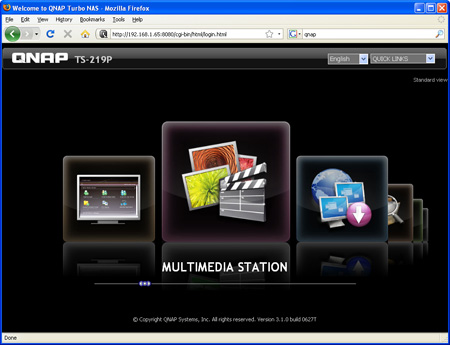 Browser access reveals a slick coverflow interface
It's almost the perfect setup, until you visit the Power Management and realise it doesn't do proper scheduled on/off. You can opt to schedule a daily shutdown, a daily restart or a daily power-on, but not a combination of off and on, which other Nas boxes manage to do. It also won't respond to Wake-on-Lan packets, which would be useful if you only had scheduled off enabled on the TS-219P.
One of the more interesting aspects of the TS-219P, and all Qnap Nas boxes, is the QPKG Plugins page where additional applications can be installed. Qnap preinstalls phpMyAdmin and Joomla, while Qnap also provides downloads of SqueezeCenter, an app that streams audio, MLDonkey P2P software, WordPress blogging software, SABnzbd+ newsgroup downloader, AjaXplorer file explorer, and XDove, an email server.
These applications are easy to install and make the TS-219P far more versatile than most other Nas boxes. Apple's Time Machine isn't supported natively, but a few users have reported the hacks listed on Qnap's forum get it working.
To test file transfer speeds, a 901MB file was copied in Windows Explorer across a Gigabit router. Jumbo frames were disabled and our 2GHz Core 2 Duo test PC had XP and a 1GB software Ram disk installed, so it didn't have to access its own hard drive.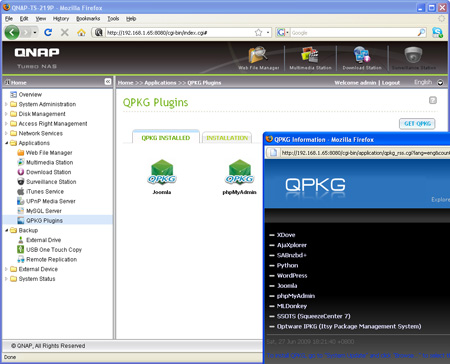 The QPKG plugins page allows installation of numerous applications including wordpress
Click for a full-sized image
Bear in mind that FTP and Vista transfers produce quicker results, but our tests represent the typical, every day experience. The TS-219P was fitted with two 1TB Western Digital RE2-GP hard drives, as were the other Nas drives in our graphs.
Sponsored: Minds Mastering Machines - Call for papers now open