Microsoft ditches Windows 7 E plans
Does IE hokey-cokey as Brussels keeps schtum
Microsoft has dumped the Internet Explorer-free version of Windows 7 that it had planned to release to the European market in the hope of appeasing antitrust regulators.
The company confirmed on Friday that after receiving nothing more than a shrug of the shoulders from the European Commission, following Microsoft's offer to punt Windows 7 E to consumers, it has now ditched those plans.
Instead Microsoft will rely on users to make their decision about which browser they want to run on the firm's Vista successor by using a ballot screen.
However, Redmond has made this move without the consent of the EC, whose investigations into the software vendor's business practices rumble on.
"In the wake of last week's developments [ballot screen proposal], as well as continuing feedback on Windows 7 E that we have received from computer manufacturers and other business partners, I'm pleased to report that we will ship the same version of Windows 7 in Europe in October that we will ship in the rest of the world," wrote MS veep and deputy general counsel Dave Heiner in a blog post late on Friday.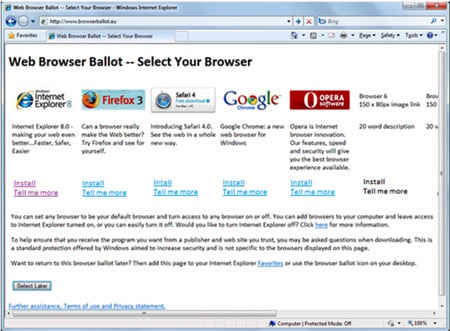 Confusingly for consumers, Microsoft might yet make another U-turn on its latest decision regarding the fate of Internet Explorer on Windows 7-based computers shipped in Europe.
"We've been open both with the Commission and with our customers and partners that if the ballot screen proposal is not accepted for some reason, then we will have to consider alternative paths, including the reintroduction of a Windows 7 E version in Europe," said Heiner.
All of which strikes us as odd, given that the executive arm of Brussels has already expressed dissatisfaction with Microsoft over its Windows 7 E game play.
In June the EC declared, "consumers should be offered a choice of browser, not that Windows should be supplied without a browser at all."
As things currently stand, Microsoft plans to update Windows 7 PCs "shortly after" they have been set up by the user. A "consumer ballot software program" will be sent over the interwebs to the user who will be presented with a list of other browsers that can be installed on the PC as an alternative to IE.
Redmond is keen to get the EC to adopt this method, so much so that if Brussels approves the latest proposal it will additionally update Windows XP and Windows Vista machines throughout Europe with the consumer ballot screen.
The EC "indicated... it welcomed Microsoft's formal proposal of the consumer ballot approach, as well as the obligations we are prepared to assume to promote interoperability," said MS.
The Register asked the EC to comment on Microsoft's latest statement regarding scrapping Windows 7 E.
"We have nothing to add to our MEMO from 24/7," said a spokeswoman at the Commission. ®
Sponsored: Minds Mastering Machines - Call for papers now open