12 of the best... travel gadgets
Don't leave town without them
LaCie 320GB 7,200rpm Rugged HDD

As tough as old boots, sporting Firewire and USB connectivity and spinning at up to 7,200rpm LeCie's 320GB Rugged hard drive is the device of choice if you want to carry some serious data onto the beach or into the breach. Moreover, the headline spec assures users the drive will survive a 2.2m drop. That seems reasonable enough. We dropped ours from a second story window onto a patio and no harm was done, though we nearly killed the cat. It's a nice looking device too though frankly we think jungle camo should be a colour option. The drive apparently complies with US military standard MIL-STD-810, which ensures survivability in the face of all sorts of general unpleasantness.
Reg Rating 80%
Price £150
More Info LaCie
Victorinox SwissFlash 8GB USB Memory Stick and Multi-Tool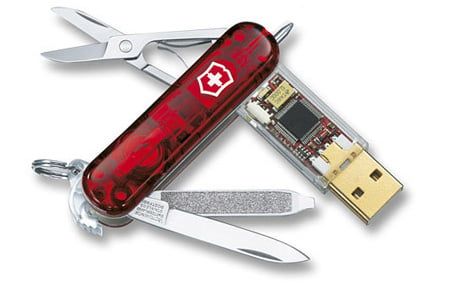 Admittedly, a USB memory stick combined with a pair of scissors, a nail file-cum-screwdriver, penknife, torch and keyring wasn't at the top of Reg Hardware's "things we wish someone would invent" list, but we're still glad somebody did. As a multi-tool the SwissFlash does suffer from not having a bottle opener – by the far the most commonly used tool on the office Swiss Army Knife – but it's certainly more use in a tight jam than a standard USB memory stick. If the best part of £90 sounds a little expensive you can also get the SwissFlash with 1, 2 or 4GB of storage. Or you could really push the boat out and go for the 16GB version. Usefully, the USB flash part of the device can be removed for safekeeping. ®
Reg Rating 75%
Price £90
More Info Victorinox
Sponsored: RAID: End of an era?