Philips Cinema 21:9 56in LCD TV
The film buffs' widescreen TV
In the fast-moving action sequences, there was not a trace of motion blur as Harry, the Green Goblin's son, surfed his way at dizzying speed through Manhattan backstreets. Even the flash-bang effects of Flint Marko being transformed into sand, was pin-sharp, artefact-free and wholly absorbing. Take away the supreme HD sharpness and the SD transmission of the movie still looked good: vibrant colours and rich detail, all picked up by Ambilight.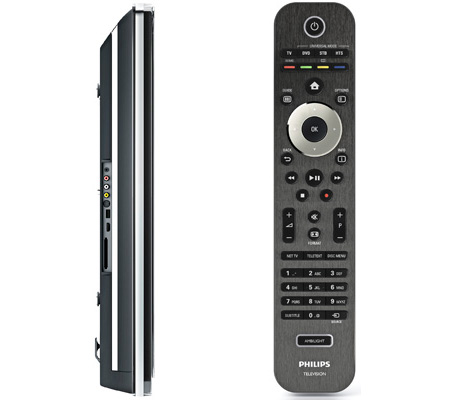 Side view and remote control
Full HD looked just great – the Blu-ray disc of I Am Legend shone with great levels of clarity, displaying accurate skin tones in this drabbed-down future world and pixel-perfect accuracy even in the fastest-moving moments.
Press the central OK button and the screen is overlaid with 20 boxes showing Freeview channel names. Scroll to the one you like and the TV tunes in, displaying the channel title and, across the top of the screen, the now and next information. Philips image processing is working overtime here, taking regular SD signals and blowing them up to fit this huge screen. It looks terrific, notably better than Freeview on regular widescreens we've seen measuring just 37 inches.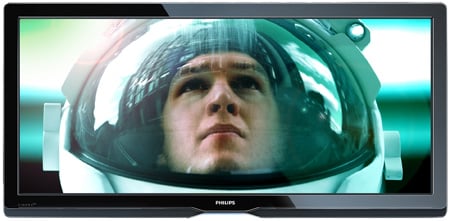 Wide screen, deep pockets
As for sound, well, flatscreen TVs are not known for great audio, whether from hidden speakers or ugly side-mounted ones. Although Philips has favoured hidden models before now, the speakers on this TV run along the bottom of the screen, marked with a discreet chrome line. The fact that the TV is so wide seems to help here, as there's plenty of room for speaker real estate without drawing too much attention to it. As a result, the sound is strong, wide and bassy. No need for a separate soundbar here.
Of course, there's a big fat price premium on this set: for this money you could buy a pair of top-of-the-range Sony 52-inchers and still have change or a 60-inch Pioneer plasma with a grand to spare. In fact, unless you were choosing a super-priced brand like B&O, you'd struggle to pay more. Even so, it's outstanding in every way.
Verdict
Film purists will love the Philips Cinema 21:9 56PFL9954H. The picture quality is exceptionally strong and the perfect proportions for film make it a dream buy. Of course, there's still some 4:3 content, which leaves black bands hanging around, and even 16:9 programming isn't perfectly configured here. But it all looks tremendous, much better than standard Freeview signals usually fare. One day, perhaps, all TVs will be this shape, but until then this is spectacular innovation – even if it comes at a high price. ®
More HD TV Reviews...

Panasonic
Viera TX-P42G10
Plasma Freesat TV

Toshiba Regza
37AV615DB

Pioneer
Kuro KRL-37V

LG 42LF7700
Freesat TV
Sponsored: Minds Mastering Machines - Call for papers now open

Philips Cinema 21:9 56in LCD TV
A spectacularly wide display, this TV is a film buff's dream, with a picture to impress, whatever you're watching, and a very high price to match.