Philips Cinema 21:9 56in LCD TV
The film buffs' widescreen TV
Picture settings are simple and, on the whole, it's best to fiddle with them as little as possible. Not least because, on top of everything else, this is a 200Hz screen with a fast refresh rate aimed at reducing flicker and delivering smoother results, even with fast-moving images.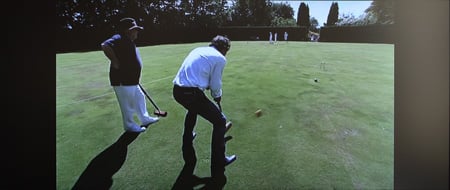 Standard definition proportions are preserved, filling the screen's extremities with huge black borders
One setting you'll to tinker with occasionally, is the aspect ratio of the display. There's a button dedicated to this in the middle of the remote, so it must be important. After all, you don't want the TV to automatically stretch the picture to fill the screen no matter what. A classic film shown in 4:3 format would suddenly be populated only by short, squat characters and – unless you're watching the Munchkins in The Wizard of Oz – that ain't a good thing.
The Auto setting is pretty clever and knows to leave black bars on the side of 4:3 content. Although this is obviously the right thing, it might leave you wondering why you paid so much for a TV with big expanses of blackness at the sides. Conventional 16:9 signals are moderately stretched and zoomed, most noticeably when you're tuned to a news channel with a tickertape across the bottom, which is partially cut off.
Still, you definitely want whatever you're watching to fill the screen because, at this width, it's immersive. It fills, obviously, a greater part of your natural field of vision. While the 21:9 Cinema 56PFL9954H looks a little weird when switched off, turn it on and you're quickly used to it. So much so, that you really miss this viewing experience when returning to regular widescreen.
And at this width, the extra-inviting appeal of Ambilight is even more effective. There are five backlighting panels on the top of the TV and four on each side – none at the bottom. Since each panel displays its own colour, it is by far the most effective Ambilight yet with a sophisticated and deeply impressive effect. Turn it off and it's like the screen has just shrunk. As for film purity, it's true no cinema screen has an Ambilight effect. However, it's always impressive, and never more so than on this scale.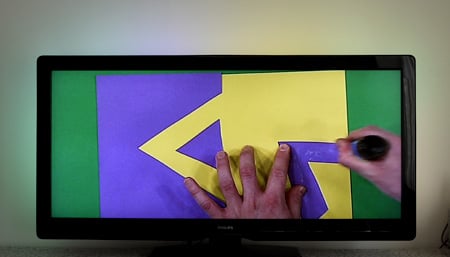 Ambilight effects colour the background wall to match picture hues
What of the picture itself? Actually, it's breathtaking. The Sky HD screening of Spider-Man 3 showed the 21:9 picture off beautifully. After 20 seconds of displaying the picture with black bars at top and bottom, it settled into a flawless full-screen presentation. In the early scene, when the pitch-black alien Venom crash-lands on Earth, the dark creature was still picked out in perfect clarity against the night time Central Park backdrop.
Sponsored: Minds Mastering Machines - Call for papers now open