Endeavour glides back to Kennedy
STS-127 mission ends
Space shuttle Endeavour landed today at Kennedy Space Center at 14:48 GMT, marking the end of its STS-127 mission to the International Space Station.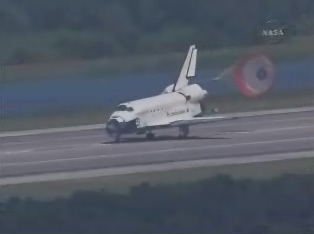 During five spacewalks, crew members installed the final Exposed Facilty component of Japan's Kibo laboratory and replaced some of the orbiting outpost's batteries.
Before landing, Endeavour yesterday ejected two small University of Texas satellites from its cargo bay: The Dual RF Astrodynamic GPS Orbital Navigator Satellite (DRAGONSat), which will "look at independent rendezvous of spacecraft in orbit using Global Positioning Satellite data"; and the sts1Atmospheric Neutral Density Experiment-2 (ANDE-2), designed to "measure the density and composition of the rarified atmosphere 200 miles above the Earth's surface".
The next scheduled shuttle launch is Discovery's STS-128 mission, slated for lift-off in late August.
Discovery will carry the Leonardo Multi-Purpose Logistics Module packing life support racks and science racks for the ISS. NASA has the obligatory crew snap of those tasked with the mission, showing from left to right: José Hernández, pilot Kevin Ford, John "Danny" Olivas, Nicole Stott, European Space Agency's Christer Fuglesang, commander Rick Sturckow and Patrick Forrester.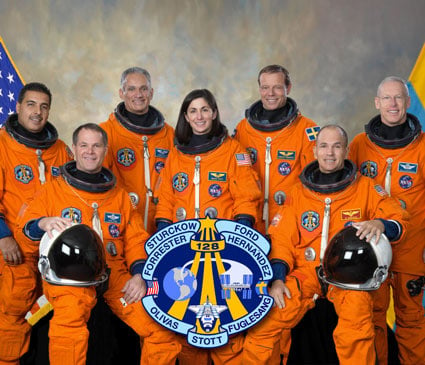 Stott will remain on the orbiting outpost as an Expedition 20 flight engineer, replacing Timothy Kopra who arrived aboard Endeavour. ®
Sponsored: Minds Mastering Machines - Call for papers now open