Brother MFC-6890CDW A3 inkjet
All you ever wanted in an MFD, but slower
Review It is to Brother's great credit that the all-in-one MFC-6890CDW packs in as many wishlist features as reasonably possible without hitting buyers with an unfriendly price. This combined A3 colour inkjet printer and A3 scanner with a full-size glass plate is a big unit at 540 x 488 x 323mm, but not particularly heavy at 15.6kg. You asked for A3, so live with it.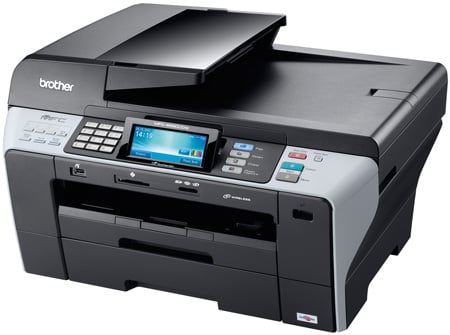 Brother's MFC-6890CDW
As standard, the MFC-6890CDW is fitted with an automatic sheet feeder, dedicated fax functions, automatic duplex (two-sided) printing, a choice of camera card slots, and 10/100 Ethernet and 802.11b/g Wi-Fi connections. And, as we found out, both the print quality and scan quality are excellent – far better than you would normally expect from an MFD.
Two paper cassettes (100-sheet and 250-sheet) are slotted into the front, and printed sheets drop into an output tray above them. In common with most inkjets, the cassettes feel cheap and fragile. The output tray looks particularly flimsy: we have broken sturdier examples than this merely by brushing against them while walking past.
The input cassettes are telescopic in order to accommodate different sizes of paper up to A3. Forcing the telescopic action was enough to cause us to raise a sweat, not because it was difficult but because we always felt the trays were about to explode into razor-sharp plastic shrapnel. Note also that extending the cassettes into A3 mode will occupy a great deal more desk space at the front.
A door to the right of the print carriage opens to reveal four separately replaceable ink cartridges. Best value can be obtained by buying the 'high yield' cartridges (catalogue code LC1100HY), which are quoted as being good for 750 A4 sheets (cyan, magenta and yellow cartridges) or 900 sheets (black cartridge). At about £16 for the colour carts and £29 for the black, a full replacement set will cost you just short of £80.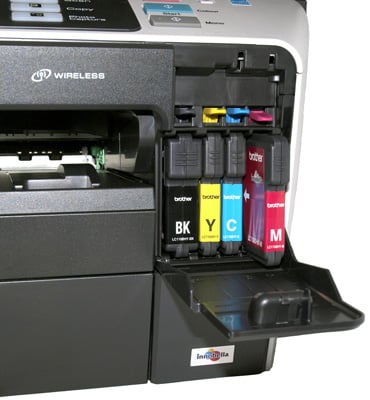 A3 printing effectively doubles typical ink costs compared to A4
To be fair, that's not too bad for an inkjet. But remember that the above ratings do not take into account sheets with lots of colour, such as photos, PDFs and web pages. If your output is predominantly A3, you can halve the ratings straight away. Using the MFC-6890CDW for a small business printing just 30 sheets a day, you could end up spending £1,000 or more a year on ink cartridges alone.
COMMENTS
A3 at this price?
I can forgive quite a lot for A3 scanning and printing at this price. I've had an MFC-6690CW (pretty well the same thing, no fax, and only about £250) for several months, in a small office, and it performs as the review says. It's not perfect, but when comparing the cost of standalone A3 inkjet printers and scanners, this is a real bargain. Okay the ink costs an arm and a leg, (and I daren't risk the cheapo 'compatible' cartidges, after a few earlier problems on other printers), but the solution I've adopted is to have a trusty mono laser (with duplex) for large documents, and only use the inkjet when I really want colour and/or A3.
...and how about a comparative review of the quality of 'compatible' cartridges sometime?
CISS
Running costs should be able to be reduced with a ciss assuming the carts/printer has no "DIM".