Dell Inspiron Mini 10
Hi-res display netbook, anyone?
Having such a high resolution on such a small screen is not all beer and skittles though, and if your eyesight is less than perfect you could develop a bit of a squint when using the Mini 10. The text in application menus, tool bars and address bars is often rather too small for comfort, especially when using the machine on the lap rather than on a desk. The same is true for the desktop text size, but at least you can increase the size of that.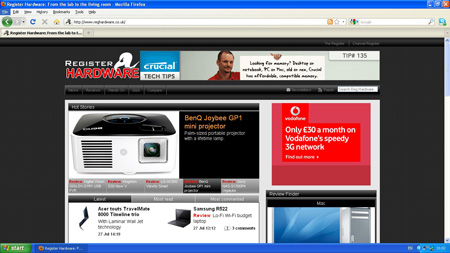 Web browsing at the 1366 x 768 resolution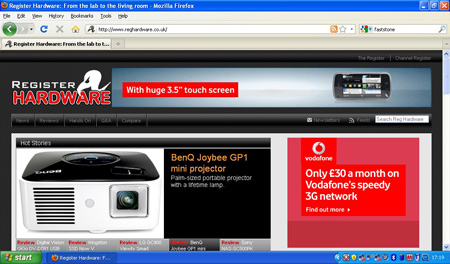 Typical netbook browsing area at 1024 x 600 taken from a Samsung model
If you do find yourself going boss-eyed the screen can be set to 1024x768 or lower but that gives everything the look of having been squashed up so it's not something we would recommend. Before we leave matters screen related we should mention that when we ran Ubuntu 9.04 from a live disc on the Mini 10. However, the system wouldn't recognise the monitor type and would only operate the screen at 1024x768. Customers in the US can buy the Mini 10 with Ubuntu 8.04 pre-installed and still opt for the HD screen, so a fix may well appear down the line.
Beyond the standard Dell Mini array of three USB ports and a VGA output the Mini 10 also comes with an HDMI port. This makes hooking up the 10 to a suitable TV a cinch – just connect it up with an HDMI cable, select the relevant video output settings and bingo, sound and video through your telly and home cinema system.
Indeed, this turns the 10 into quite a handy little part time lounge PC for watching video or browsing the web on the TV, especially if you invest in a wireless keyboard. You will need to make sure you have a spare HDMI cable though, as Dell don't supply one.
Another less than common feature of the Mini 10 is the built in digital TV tuner. Unfortunately our review machine didn't have it fitted, but we have seen it in operation at a Dell presentation. From what we saw, it did a decent job of turning the 10 into a small telly – at least in an area with decent Freeview reception.

HDMI and a built-in TV tuner, so we're told
Dell ship the TV-tuner equipped Mini 10 with an MCX antenna array that has two telescopic aerials. The MCX cable plugs into a slot next to the SD card slot on the right hand side of the machine – plus an MCX-to-coaxial adaptor and a couple of clips to hold the antenna in place. Judging by comments on the web, early customers didn't actually get any of the external TV kit. Dell has informed us that has now been rectified, but if you still don't get your TV antenna just give Dell a call and it will be posted to you.
Sponsored: Minds Mastering Machines - Call for papers now open