Johnson signs off ID card for UK citizenry
Bloody British, they all look the same
Home Secretary Alan Johnson has shown off the design for the national ID card for British citizens.
The government has already dished out 50,000 cards to foreign nationals resident in the UK.
For British citizens the card will look like this: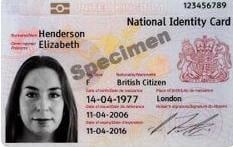 Johnson also said that residents of Northern Ireland would be able to apply for a card which describes them as Irish, if they wished to.
The card contains an RFID chip which will hold two fingerprints, a picture of your face, your name, date of birth, place of birth and nationality.
In other news the Tories reckon they've worked out how much the Home Office has spent on ID cards so far - by adding up various contract awards. They reckon this comes to over £200m. The problem is that this includes necessary spending on upgrades to UK passports, so singling out spending on ID cards is impossible.
A spokeswoman for the Home Office said: "We have always been very open about ID card costs and recently published the annual ID card costs report. All the operational costs of issuing the cards will be covered by the fee income it generates."
That's alright then. ®
Sponsored: Minds Mastering Machines - Call for papers now open