Cisco and IBM come together over SAN WAN links
I'll be your Global Mirror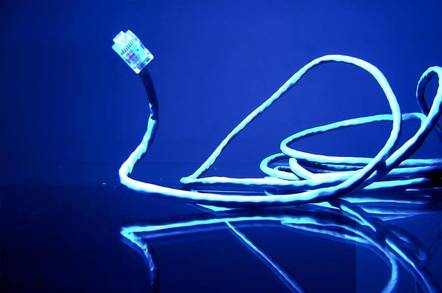 Cisco and IBM have partnered to improve wide area communications for mainframe SAN users with a specialised Cisco WAN acceleration offering.
It accelerates data traffic across long-distance, wide-area networks (WANs) for IBM z/OS mainframe users of Global Mirror, a business continuity and disaster recovery replication product. Cisco's XRC (Extended Remote Copy) Acceleration software product, developed with IBM, reduces or even eliminates latency effects that can decrease performance at 200 kilometre distances or greater.
It is an option for MDS 9000 users, with NX-OS Software v 4.2 or later. Cisco says it: "maximizes parallelism by supporting multiple system data movers (SDMs) and multiple readers within each SDM. IBM Parallel Access Volumes (PAVs) and HyperPAVs are supported. Fibre Connection (FICON) Data Access Storage Devices (DASD) from IBM, EMC, and HDS are supported to complete the ecosystem."
"XRC Acceleration runs on the same hardware as the underlying SAN Extension on Fibre Channel over IP (FCIP), and it takes advantage of the IP Security (IPsec) encryption and data compression MDS switches provide. Many customers experience compression ratios of 4:1 or better, and a number report compression exceeding 5:1."
Cisco has also announced TrustSec Fibre Channel Link Encryption, which is special hardware to encrypt data between MDS 9000 switches in single or multiple data centres. It can be enabled on a per-port basis with no performance degradation.
A third new MDS feature is the I/O Accelerator (IOA), which speeds up SCSI disk writes and SCSI tape reads, and writes over MANs (Metropolitan Area Networks) and WANs with Fibre Channel or Fibre Channel over IP links. This is a fabric-based service and the accelerator service nodes can be located anywhere in the SAN fabrics either side of the remote link. It is intended to accelerate backup, business continuity and disaster recovery data transmissions.
IOA includes compression and can be transparently turned on by enabling the Cisco MDS 9000 IOA Package license.
Cisco's SAN Fabric Manager has been updated to increase the number of devices that it can manage. Each Fabric Manager node now has a 15,000 device capacity. Up to 10 nodes can be federated together for reporting purposes, improving the manageability of large storage environments.
Cisco is positioning this news as forming part of its Data Centre 3.0 strategy, but there is nothing here specific to its UCS server system, virtualisation or Fibre Channel over Ethernet. These four announcements represent relatively minor additions to its product line. Given the context of Cisco's UCS competing with servers from IBM, it is interesting to see the power of co-operation as IBM, recognising that Cisco MDS 9000 switches feature in its customers' mainframe environments, works with Cisco to improve mainframe SAN communications.
There is no information about pricing of these new offerings. ®
Sponsored: Minds Mastering Machines - Call for papers now open