O2 data network falls over again
You just can't get the servers these days
Reports are pouring in that O2's data network is again on the fritz, with users complaining that data connectivity on the mobile network has been down for an hour. The company's website isn't any help as that's down too.
The latest outage follows a failure of the data network last week, and the disconnection of roaming customers the following day. Meanwhile, the O2 website has been up and down for the last week or two, and is currently unavailable.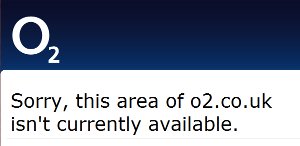 O2, pretending to be out?
We've no idea why the website is down, but the data outage seems very similar to the one that happened last week, which was traced to a DHCP failure, so the two are probably related. However, users of the support forum report that the quick fix from last time (changing the APN to "idata.o2.co.uk") isn't working this time around.
When we covered the outage last week, we suggested that mobile data was never mission-critical, with sarcasm that was lost on some readers. But those who have entrusted mission critical functions to O2's data network will already be regretting that decision, while the industry as a whole suffers from a perceived lack of maturity in the technology caused by the incompetence of one company. ®
Sponsored: RAID: End of an era?