Samsung R522
Lo-Fi Wi-Fi budget laptop
Horizontal viewing angles are good, though clarity tails off a little when you leave the centre sweet spot, and with the brightness cranked right up we managed to use it outside even with the sun doing what it does best.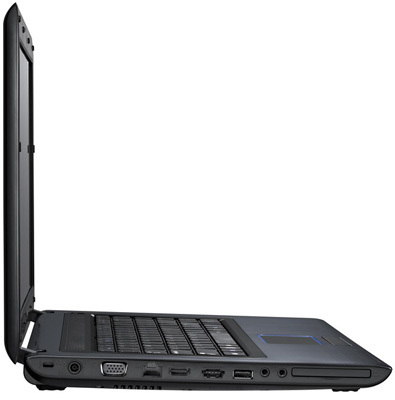 No shortage of ports on the R522
The internal fan remains remarkably quiet, but you get the feeling it should be working a bit harder to dissipate the heat. Indeed, during extended use of the laptop the left side got fairly warm – both on the underside and the top – but not once did we hear the fan ramp up to deal with the problem.
In terms of ports, the R522 certainly isn't lacking. Two USB ports sit alongside the DVD burner on the right side, but since they're stacked on top of each other plugging in a bulky USB stick into one may block off the other.
Thankfully, though, Samsung has found room for two further USB ports on the left, which aren't stacked. Gigabit Lan, VGA-out, HDMI, audio in/out and a 54mm Expresscard slot also sit on the left. And as if that wasn't enough, one of the USB ports will take any eSATA devices you've got kicking around, while an SD card reader is located at the front.
It might have everything in the way of ports, but while we can just about forgive the lack of Bluetooth, one feature that shouldn't have been left out in the cold is 802.11n Wi-Fi. It's been a while since we've seen a laptop such as this resort to 802.11g, but that's all the included Atheros AR5007EG wireless card can muster up.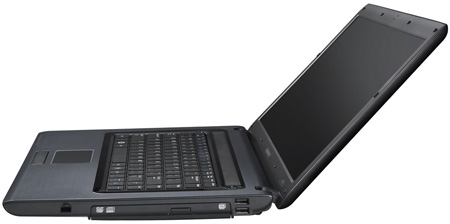 The keys could do with having a slightly rougher texture
Perhaps Samsung has a heap of old Atheros cards they wanted to get rid of – whatever the reason, if you've splashed out on a fancy new Draft-N router it's highly unlikely you'll want to sour your new network with an 802.11g laptop. If Samsung simply wanted to keep the cost down, it would have been better off reducing the size of the 320GB hard drive in order to accommodate 802.11n Wi-Fi.
Sponsored: Minds Mastering Machines - Call for papers now open