UK.gov's Jobs Search site needs some work
Gissa job. I can do that. Go on, gissit
Updated Those of you unaware of all that the government's Directgov website can do for you, with regard to improving your skills and finding a new job, are going to be staying that way, for the time being at least.
According to the government, Jobseeker.direct.gov.uk is designed to let you "search for jobs, training, career information, voluntary work and childcare providers across the UK."
Unfortunately, anyone looking to do that this morning was getting: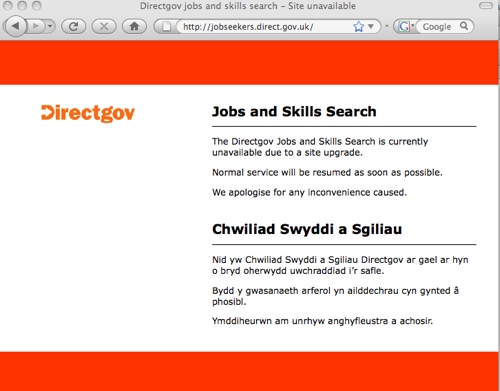 As Reg reader Nick commented on the upgrade, "Guess it failed. Or the Government IT department responsible are all off with Swine flu?!"
Considering Whitehall's little local difficulty with keeping its Pandemic Flu website up and running, both seem likely.
We called the Department for Work and Pensions, which runs the Jobseekers' programs, but they said they're not actually responsible for the site and to call Directgov.uk. But unfortunately, they're not answering the phone.
Anyone wanting to pitch in, to help the government keep its websites on their feet should hit the Department for Business, Innovation and Skills, to find up how to set up a small firm before proceeding to the the Office of Government Procurement's website to find out how to pitch for the business. Both those websites were actually up and running the last time we looked.
And, once you've slogged your way through that little lot, the recession should be over and you can get back to some proper IT work. ®
Update
The site is now back up and running. We ran a search for government IT jobs in Whitehall. We were asked which Whitehall - the system lists seven, from Somerset to Cumbria to Kent. But not, it seems, in Westminster.
Sponsored: Minds Mastering Machines - Call for papers now open