Swine flu site struggles to stay up
Symptom checker sickly
The government's swine flu information website and symptom checker struggled to deal with demand last night as anxious snifflers, hypochondriacs and fraudsters deluged the site.
The National Pandemic Flu Service - a phone line and a website - was down for much of yesterday after its afternoon launch with many Reg readers getting this error page.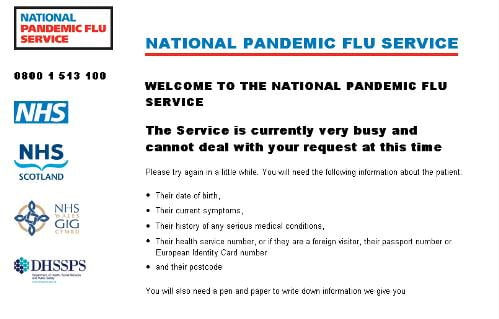 The symptom checker, which struggled earlier in the week, seemed to have most problems. This is a secure service which, assuming your symptoms are right, will provide an authorisation number which can be used to obtain an anti-viral prescription. Given that Tamiflu is fetching ten pounds a pill online we assume this is a target for fraudsters.
We decided against adding to the website's problems by pointing out its problems immediately after launch yesterday. But to still be struggling many hours after launch is a bit embarrassing, even by the high standards of government IT projects. The site seemed to be ok this morning - but it's only early yet.
For those who can't get onto the site the basic advice, for those not in a high-risk group, is go home, drink water and take paracetamol if required. The disease may be spreading more rapidly but it is not becoming any more virulent.
Nurses remain confident that their organisations can cope with the disease and some feel the impact of the disease, both on the NHS and individuals, has been over-stated, Nursing Times reports. ®
Sponsored: Minds Mastering Machines - Call for papers now open