Digital Vision GiGo DV-DTR1 USB PVR
Heir apparent: granny's new VHS?
If you're a projector aficionado you'll already have divided the world of remote controls into those that are strong enough to bounce their signals off a wall, and those that aren't. LCD/Plasma watchers tend to keep their set top boxes and other feed equipment in the same line of sight as their screen, so IR devices only need to be able to work directly.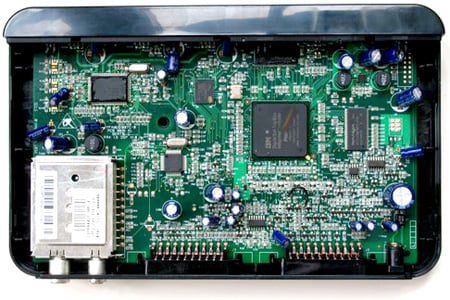 Internal affairs: the CPU is an IBM PowerPC variant
We projector buffs typically have all our kit behind us, but still expect to be able to control it by pointing remote controls in the direction of the screen. The bad news for us is that the GiGo remote IR signal doesn't bounce, so we'll need to brush up on our over-the-shoulder action.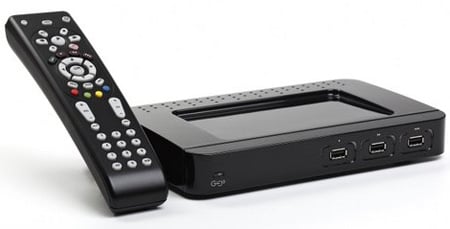 Solid-feeling remote control, but it won't 'bounce'
Digital Vision has done a good job providing a basic Freeview box that makes recording and playback simple. Granny should find USB flash drives a lot easier to juggle than either VHS tapes or DVDs. A hard drive would be even easier, of course, and we understand that future devices from Digital Vision will include this option.
Verdict
The GiGo, despite its unfortunate name – as there's nothing "garbage in, garbage out" about it – is certainly a good bet for the more computer-savvy user who wants a Freeview set top box that allows transfer to a PC. And for everyone else, as an easily maintained, no-moving-parts VCR replacement, the GiGo seems hard to beat. ®
More TV Recorder Reviews...

Humax Foxsat-HDR

SiliconDust
HDHomeRun

Elgato EyeTV 310

Emtec
Movie Cube S800

Digital Vision GiGo DV-DTR1 USB PVR
Easy to operate, with plenty of potential for both domestic and techie use.